For many, this is the film that completely killed Robocop. While
RoboCop 2
was hardly a critical darling, that film at least made a profit;
RoboCop 3
, on the other hand, satisfied absolutely no one. It was positively trashed by critics and was a huge bomb at the box-office, making only $10 million off of a $22 million budget. To this day, it is absolutely reviled by both fans and average movie viewers, with a current 3.8 rating on IMDB and a 3% on Rotten Tomatoes. Damn! I know of few sequels that are more despised than this flick. There are a lot of sequels that are really hated and considered to be insults to the film that spawned them but,
RoboCop 3
has to rank among some of the blackest black sheep of any franchise I can think of. In fact, looking at its production history, it seems as if fate was completely against this movie from its inception. Three important factors contributed to its critical and commercial failure. One, after
RoboCop 2
, Peter Weller made the decision to move on from his most iconic role so, even if everything about this movie was perfect, it would still be missing the actor who, above anyone else, created the character, which was never going to sit well with fans. Two, Orion Pictures, which was basically falling apart at that point, decided to try to go for a broader audience and aim for a PG-13 rating, even though the first two films were quite successful with their R-ratings. As a result, you have a film that doesn't have the edge and darkness of its predecessors, which is a big mistake. And, finally, you have the financial problems and eventual bankruptcy of Orion, which severely delayed the film's release. It went into production soon after the release of
RoboCop 2
and was originally meant to be released in the summer of 1992 but it sat on the shelf for a year until Orion was bought out. It was finally released in November of 1993, which, typically, is not only a bad time of the year to release this type of film anyway (unless it's a James Bond film) but was long after any sort of interest in the film had faded. With these three strikes against it, it really does feel like
RoboCop 3
was a movie that had no chance at being successful in any possible way.
You've no doubt noticed that I haven't yet given my opinion on the film but, the fact that this isn't an installment of Movies That Suck should give you a clue. Yes, I know I'm going to get flamed for this big time and I'm going to be told that my taste in movies sucks but, I must be honest, I like
RoboCop 3
. Now, do I think it's a flawed film? Oh, hell yeah. It has more than its fair share of problems, chief among them being its toned down, PG-13 nature and the lack of good satire, which I'll get into presently. Do I think it's on the level of the original? God, no! Even though I will give my reasons for liking it, I will fully admit that this film isn't even on the same plain, or same planet, for that matter, as the original. Does it suffer due to the lack of Peter Weller? Very much so. Are the action sequences memorable? Not particularly. In fact, there are moments in these sequences where it's very apparent that the budget is greatly reduced from that of
RoboCop 2
. So, you may be wondering why I like it if I can see and acknowledge the problems it has. The reason for that is simple: I don't find it to be as unwatchable and horrible as so many others seem to. Going into the film for the first time (in case you're wondering, this was the last
RoboCop
film I saw), I had somewhat of an awareness of this film's image amongst fans but I had also seen some fairly good reviews of it too. As I said back in my review of
RoboCop 2
, it seemed as if that film was the one that got the shaft from critics whereas this one got off rather lightly. In his
Creature Features
book, John Stanley gave it a respectable three star rating, as opposed to
RoboCop 2
, which he only gave two and a half stars, and said that it was exciting and an improvement over the one before it. It was only after I first saw the film that I truly realized how reviled it is. Again, I can't blame hardcore fans for disliking it so much and it's certainly no masterpiece or anything but I do find it to be an enjoyable, if predictable, sci-fi/action film that I can use to kill almost two hours. I simply find it easy to sit through and, if that's the case, I can't call it a movie that sucks. So, yes, sue me up the ass, but I do like
RoboCop 3
and I hope to make you see why in this review.
Even though his original script for
RoboCop 2
was severely altered before production began on that film, Frank Miller agreed to come back and write the third film since he was still hoping to make a name for himself in the film business. To that end, he put a lot of stuff from his original draft of that film into this screenplay and some of the major ideas for the plot, which involves Robocop joining with some rebels who are trying to save their homes from being demolished, were retained in the final film. But, when it was all said and done, Miller discovered that his script for the film was messed with and rewritten by director Fred Dekker even more than his original draft of the second film was. That was when Miller decided to give up on Hollywood and wouldn't return until he worked with Robert Rodriguez on the film version of
Sin City
. As I said back in my review of
RoboCop 2
, Miller has made his annoyance about his stuff for these films being rewritten very vocal in the years since and, in an interview he did with G4tv.com in 2005, he went as far as saying that, in Hollywood, "The screenplay is a hydrant and there's a row of dogs around the block waiting for it." Uh, bitter much? I guess I can't blame him but, still, that's pretty damn harsh.
The three-strike dilemma that I described when talking about how
RoboCop 3
seemed doomed from the get-go is the same way that I feel about its director, Fred Dekker. This guy is a very talented writer and director who has had the worst luck imaginable in his attempt at a filmmaking career. In the late 80's, after writing the story for the moderately successful horror film
House
, Dekker wrote and directed
Night of the Creeps
and
The Monster Squad
, two films that have since become beloved cult classics but, at the time of their release, flopped at the box-office and, for that matter, didn't get DVD releases until the late 2000's. After those two blows, Dekker worked as a writer on
Tales from the Crypt
and wrote the original story for the moderately successful
Ricochet
before landing the job of directing
RoboCop 3
, which, as I said, also involved him extensively rewriting Frank Miller's original script. The massive failure of this film effectively ended Dekker's directorial career and since then, he hasn't worked much except as an occasional writer on stuff like
Star Trek: Enterprise
. It's a real shame because the guy is quite talented and probably has a lot of good ideas in his head but, when you direct nothing but a series of flops, regardless of the cult status some of those films eventually gain, it makes you a pariah amongst the studio system and no one wants to give you another a chance. That's why I feel that both the movie and its director are tied together in some ways: they both had enormous odds stacked against them and, try as they might, they were just unable to overcome them. And at this point, even though Dekker has claimed to have been working on some ideas for others films, I think it's unlikely that we'll ever see him get into the director's chair, be it either from no one giving him a chance or just lack of enthusiasm on his part due to his being burned so many times.
The main reason that Peter Weller didn't return as Robocop is because, right after he finished working on
RoboCop 2
, David Cronenberg offered him
Naked Lunch
and, as any self-respecting actor would, decided to take the opportunity to work with a lauded filmmaker like Cronenberg, especially on an adaptation of a William S. Burroughs book. But there was also the cold, hard truth that, while making
RoboCop 2
, Weller decided he'd had enough. He was not only tired of how physically exhausting it was to perform in the suit but, as just about everyone else, he didn't like how the storyline was getting diluted. While Weller has since said that, despite his misgivings, he would have done
RoboCop 3
out of loyalty to the fans (although, I wonder if that's just him saying that in hindsight since that film was so hated by fans and the general public), he had already signed on to
Naked Lunch
by the time it was being developed so, either way, they had to recast the role. They ultimately chose Robert Burke, an actor, who despite having a lot of titles to his IMDB page, is pretty much an unknown who mainly just plays either bit parts or small supporting roles. This is one of the only films he's the lead. In any case, he's widely considered to be one of the major problems with this film, with people saying that he brought shame to the character of Robocop. I, for one, don't think all of this hate is warranted. While it would have been infinitely better if it were Weller, I don't think Burke was absolutely awful in the role of Robocop either. Okay, negatives: his movements and posture as Robocop are rather awkward sometimes, even though he did train with Moni Yakim, the same movement coach who taught Weller, and he says a few more overtly jokey things than I would have cared for, especially during the film's last quarter. But, other than that, I don't think Burke was bad in the role. I thought he fit the suit well (interesting, considering he's taller than Weller), I didn't mind his voice (although, granted, it doesn't sound anything like Weller, which does make it a bit hard to accept that this is the same character from the previous films), and, most helpful of all, he looks an awful lot like Weller. He manages to pull off a lot of the same mannerisms and movements as Weller (although, again, not quite as good as him), especially when he's moving his head around and scanning the area (weirdly enough, when you can see his face, he actually looks like an animatronic when he moves his head and talks!), and he does the same thing with his voice that Weller: deep and very robotic when on duty and softer with a bit more emotion during the quieter moments when he's more or less being Murphy, which I think suits him well. So, in that respect, I think Burke was a nice enough fill-in for Weller.
And for those who complain that, after the original, Robocop seemed to regress back to being nothing more than a machine, I disagree because to me, and this is a bold statement but I'll go ahead and say it, he's consistently human in this film. Think about it for a second. In the first film, he was after Clarence Boddicker and his gang for taking his life away from him, but that agenda didn't start going through his head until about halfway through (not a criticism, just saying); in the second, he was after Cain both for his drug trafficking and for the torture he put him through at that one point but, he was out of action for a little bit due to those ridiculous OCP put into his head; and, in this film, he's helping these rebels not only because they're simply trying to hold onto their homes and these tyrants are trying to drive them out but also to avenge the death of the person whom he had the closest human connection to after having become Robocop. Like I feel he did in the second film, he puts on that cold, mechanical exterior when he's on duty during his first appearance here and in other parts but, throughout the majority of the film, he's doing things and making decisions based on human emotions. When he first appears, he disobeys a direct order and decides to go help Lewis instead; when he sees the families being evicted from their homes, he records it and it eventually triggers memories of his own family, which ends up being one of the reasons why he joins the rebels; when Lewis uncharacteristically refers to him as Robo at one point, he insists that she continue calling him Murphy; when they discover some of the rebels taking shelter inside of a church and the Rehabs arrive to drive them out, Robocop, his main directives aside, simply knows that what they're doing is wrong; and, most importantly, when Lewis is gunned down by McDaggett and his men, Robocop promises her that he'll avenge her death. Going against your own murderers is a pretty powerful, emotional drive but I also think that avenging the death of a friend is just as profound and something only a human, not a machine, would do. I also think that helping people who are trying to hold onto the only homes they have is a decision that someone with a lot of humanity within them would make.
Speaking of which, there is talk about how much humanity Robocop has, with Dr. Lazarus insisting that he is, indeed, Murphy and that if OCP wanted a complete robot, they should have built one instead of turning a man into a cyborg and then complaining whenever the human side comes through. Robocop is also grateful for Lazarus for not following an order from OCP to get rid of his human emotions and memories in order to make him more controllable. And this film is, ostensibly, about Robocop's attempt to become part of a family when he joins the rebels since, as we saw in the previous film, he knows he can longer be with the family that he once had as Murphy, even though he still knows that's who he is. He also tells Lazarus at one point that he doesn't have many friends (aside, of course, from her and Lewis) and in this film, he makes more human connections than he ever has in the past. There is one bit, though, where I think things get a little bit confused about his humanity. When Robocop is talking to the little girl Nikko, he tells her that Murphy
used
to be his name and then then thinks back to when Clarence Boddicker and his gang gunned him down. That, to me, goes back to the first film when he still wasn't sure if he was Murphy or not and flies in the face of when he started referring to himself as Murphy in the previous films, save for those times when he was forced to identify himself as a machine. Furthermore, I thought that kind of hurt the film's last line, where he tells the chairman of OCP, "My friends call me Murphy.
You
call me Robocop," which I feel sums up how he thinks of himself and how other people view him really well. However, I do like the bit after that where Nikko mentions her parents and Robocop, knowing that they're dead, tells her that, while she may miss them, since she remembers them, they're never really gone. Again, only someone with a lot of humanity within them would say something like that. Now, is he also relating to his family when he said that? Possibly, and, truth be told, that used to bug me since I felt it violated what we've been told about the flashes he has of his family, that they're just glimpses into his past life instead of concrete stuff that he remembers. But, when I think about it, since they are referring to them as "memories" here, I guess it's possible that they could have become more solid by this point, which may have been what prompted him to initially go to his family in the previous film. He may not be able to be with him but he now does remember them more clearly, which I think is fine (and is also another reason why I don't like that bit where he says that Murphy used to be his name). You can argue with me if you want, that's what opinions are about, but I still maintain that Robocop is human for the majority of this film and everything he does is motivated by that notion.
One sequence involving Robocop here that has always made me scratch my head is this bizarre dream (at least, that's what I'm calling it because I don't know what else to refer to it as) that he has while he's offline and being repaired by Dr. Lazarus and the rebels. We see the inside of some functioning circuitry, which I'm guessing is meant to be the electronic parts of Robocop's brain, and we flashes of his wife and Lewis, which then cut to a weird bit where we first see his wife and then she slowly morphs into Lewis, who then morphs into Dr. Lazarus. And, as if that wasn't weird enough already, you can tell from their bare shoulders that they're naked. After seeing these visions, Robocop regains consciousness, which leads to that shot of his face up above and I like how he seems as confused about what that was as the viewers probably are. I don't have an explanation for what that was supposed to be. I'm guessing that was supposed to be him thinking about the most important women in his life, I think, but nevertheless, that scene always makes me go, "Huh?" every time I see it. That's one thing I would ask Fred Dekker about if I ever got a chance to meet him.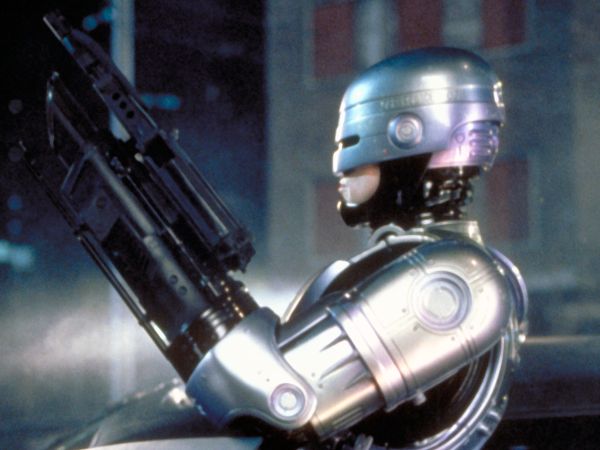 The suit that Robert Burke wears in this film was originally built for
RoboCop 2
and it's obvious because, unlike the blue color they ultimately went with for that film, this suit is much more akin to the silver-gray one of the original, albeit a bit more polished and not as gritty-looking as that suit was. Rob Bottin brought that momentarily aborted suit back out for this film and I think it looks pretty good myself, although Burke said that, because of the height difference between him and Peter Weller, it was painful for him to wear after a short while. While the previous film didn't give him any new weapons or gadgets, this one gives him a couple of notable ones. One is something that was shown a lot in the advertising for the film and was known by the production team simply as the "gun arm." It's a multi-weapon attachment with a small machine gun, a flamethrower, and missile launcher that Robocop uses by removing his left hand and putting the weapon in its place. I think some would have liked it better if Robocop used his normal gun more often in this movie and while the gun arm does indeed feel like something that was created for no other purpose than to sell toys, I think it's a cool attachment myself and certainly gets the job done. The other gadget that Robocop makes use of in this film, however, is pretty reviled by fans to this day: the jetpack. Yes, just like James Bond in
Thunderball
, Robocop has a jetpack here that he uses during the climax to tip the odds in the favor of the police and the rebels during their standoff with the Rehabs as well as to reach OCP headquarters and save his friends, settling the score with McDaggett in the process. Many find it to be extremely silly and overly comic booky, making Robocop feel more like a superhero than he ever has before, but it never bothered me. I don't love it but I don't find it as disgraceful as some do and besides, it has a practical application since he can also use it to recharge himself when he's running low on energy. Finally, one last thing I must comment on is the fact that Robocop's prime directives are suddenly back in his system, including the fourth directive that prohibits him from acting against someone who is involved with OCP. Many have complained that doesn't make sense given how, in the previous film, when Robocop shocked himself to get rid of all the stupid directives that were in his head, he dispensed with every single one of his directives, including his original ones. At first, I did feel that was put back in there by Fred Dekker as nothing more than convenience for the plot but, thinking about how much control OCP had over him in the previous film, with the taped questioning of him at the beginning to keep his wife from suing the company and how they determined whether he got repaired or not after he was dismantled, I don't find it too farfetched that they could have slipped those original directives back in. Remember how Dick Jones was able to go over Bob Morton's head and put Directive 4 in there in the first place? I doubt things would have changed at OCP by this point to where the higher-ups couldn't have gone around those who maintain Robocop and care about his well-being in order to place him back under their control as much as they could.
Like Peter Weller, Nancy Allen wasn't too thrilled with how
RoboCop 2
turned out either and, while she does come back to play Anne Lewis one last time, she only did so if she was killed off early in the film, which is what happens. While the portrayal of Lewis is consistent from the first two films and she remains one of the only true friends that Robocop has until he joins up with the rebels, it's obvious that Allen was just going through the motions in her performance and couldn't wait to be gone. Also notice that she's grown her back to the length it typically has as opposed to the short style it was in the first two (while it was longer in the second film than it was in the original), which I think is a subtle hint that she doesn't really care anymore since that was Lewis' trademark look before. That aside, Lewis is still a very tough and capable police officer here, not taking crap from anybody, particularly when it comes to that guy whom she and the other cops got into a wreck with, still feels a personal connection to Robocop (although, I don't know why she called him Robo at one point instead of Murphy, like she always did), and is moral enough to know what the right thing is and stands up against McDaggett and the rest of the Rehabs when they threaten toss out the people who are simply taking shelter from the cold in the church. Granted, it was stupid of her to not wear her body armor, even if she was off-duty, given how dangerous Old Detroit is anyway, but I do like that, despite having no armor, she still stands up against the Rehabs. That, of course, leads to her being mortally wounded by McDaggett and Robocop, despite being severely damaged in the ensuing firefight, takes her inside. He knows that there's no way he can save her and he can only comfort her by telling her to not be afraid and that the pain she's feeling will subside. That's when she tells Robocop to get them for her and, after he promises to do so, Lewis says, "Murphy..." one last time before dying. I do like how Robocop, upon realizing that she's gone, solemnly says, "Officer down." Some may not care for it but I do. So, while Allen's heart was probably far from being completely in this performance, I do think she managed to keep Lewis' character consistent and, sue me, I like the idea of Robocop's motivation being his keeping a promise to his truest friend.
I like that they give Robert DoQui more to do here in his final performance as Sergeant Reed, as opposed to the previous film where he did absolutely nothing. He's still beleaguered by the complaints of the citizens but we actually see him assert his position more than we have before, like at the beginning when he tells Robocop to continue pursuing the van he's after instead of going off to help Lewis and when he's giving the officers instructions about where the rebels might be hiding and that they must check those locations in they're on their respective beats. Also, we see more than ever the trust and integrity that Reed has a person. He knows fully well how shady OCP is and that Robocop couldn't have killed Lewis, despite what McDaggett says. So, when Robocop shows up at the police station even though there's a warrant out for his arrest, Reed does nothing to stop him when he goes after the Rehabs' Center of Commands at the station. Reed's best moment comes during the last quarter of the film when McDaggett tries to get him and his police force to help the Rehabs in taking complete control of Cadillac Heights. Despite both McDaggett's and Johnson's threats, Reed absolutely refuses, saying that he and his men don't do that kind of work and when Johnson tells him that he should be more worried about his family than these "squatters" (in other words, he's threatening to fire him if he doesn't do what he's told), Reed says that he is and proceeds to take his badge off and throw it on the floor, saying, "I'm thinking I have to go home and face them." Every other officer in the station follows suit and they join up with Reed to make a last stand and defend Cadillac Heights, deputizing the residents of the area so they can put up one last fight as well. It's a shame to me that DoQui never became a more popular actor than he was because he's really good here, as he is in all of these movies, and really gets across how much of a decent and noble man Reed truly is.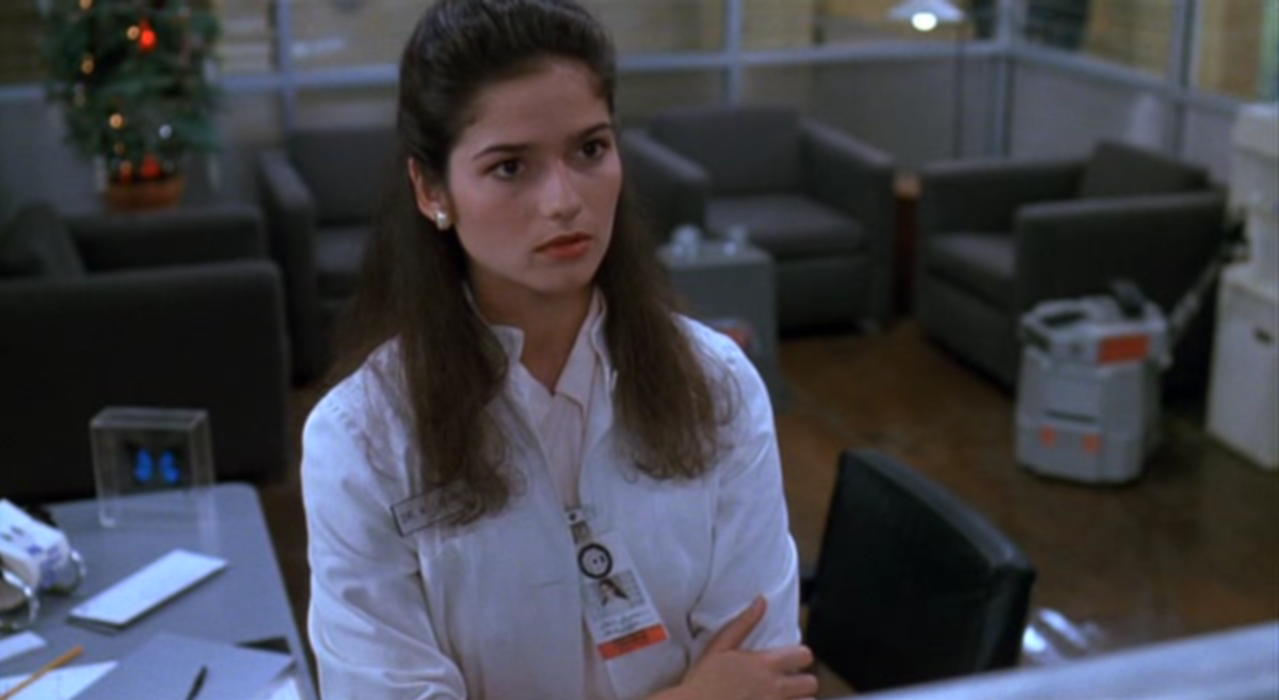 Besides Lewis, the person in this film who can be regarded as Robocop's truest friend and ally is Dr. Marie Lazarus (Jill Hennessy), a technician who is very similar to the character of Garcia in the previous film (so much so that I used to think that she was meant to be the same character), only with much more screentime and a more integral role to the plot as well. Robocop sees her as one of the few people who he can really trust because, when she's being grilled about why a machine would disobey an order, she's the one who laments that there is humanity within Robocop and that he is indeed Alex Murphy; more importantly, when Lazarus is told to get rid of his human memories in order to make him more controllable, she decides to risk her job and not do so by destroying the chip that would have made him a mindless robot. As a result, when Robocop is taken in by the rebels after having been severely damaged by McDaggett's men, he tells them to go get Dr. Lazarus since he trusts her without question and knows that she can help him. Moreover, Lazarus herself doesn't at all believe that Robocop killed Lewis and when she's told where he is, she doesn't hesitate to go and help him. She helps him get back on his feet and actually makes him stronger than he was before. While she certainly never trusted OCP before, she's horrified when Robocop shows them the recording of Lewis' dying words to him, revealing that she was killed by McDaggett's men, and when she's captured by the Rehabs when they raid their hideout, she does her best to put up a fight and at least tell them how reprehensible they are, even if it's ultimately no use. She also uses Nikko's minicomputer to hack into OCP's TV signal and send a message through the airwaves that exposes OCP for the lying, greedy people that they are by revealing their horrific methods of clearing out Cadillac Heights. This eventually results in OCP's stock plummeting to zero which, along with the main building's eventually destruction, ensures the company's doom (I think really did it to inspire the other civilians to fight for their homes but it doesn't look like it did anything of the sort). And after that, both she and Nikko help Robocop out when he's battle two Otomo androids by programming them to destroy each other. By doing so, they also inadvertently spell the end for OCP since they were linked to a self-destruct system that eventually blows the main headquarters to kingdom come. To sum up, throughout the film, Lazarus does nothing but prove herself to be a true ally to Robocop and someone whom he can definitely depend on.
Nikko (Remy Ryan), the young Japanese-American girl who is taken in by the rebels after she's rendered homeless (and, as you eventually find out, is also orphaned) by the Rehabs, is meant to be someone else whom Robocop can bond with and relate to, mainly because they've both lost their families and are in the same boat as a result. That said, though, she's not a very compelling character. She's not annoying or anything and she does prove to be helpful to the rebels with her computer skills, as well as being the one who insists that Robocop is on their side and that they must take him in but, otherwise, there's not much depth to her. The most important aspect about her, again, is that she's another person Robocop can relate to, both in the fact that they're in a similar boat and that she's a young fan of his and knows that the rebels can trust him to do the right thing. But, I really didn't get that into their relationship since there's really not much to it and, while the image of him allowing her to lay down on his leg is touching and is more evidence of his humanity, as I said earlier, some of the stuff he tells her makes his characterization feel rather inconsistent. Plus, I didn't care for her attempts at being witty or funny, like the banter that she has with Lazarus about the equipment they should use or when she says that she used her minicomputer to hack into the OCP building's security system and saw Casey Wong of Media Break picking his nose and her saying technobabble didn't do much for me either. I didn't find her annoying but I didn't find her to be particularly memorable either.
On that note, I will say that a major problem with
RoboCop 3
is how unmemorable or interesting a lot of the characters are and that goes for both the good guys and the bad guys. When it comes to the rebels, the most memorable is CCH Pounder as Bertha, the leader. She's the most gun-ho about defending the only homes that they have at Cadillac Heights, rallying her subordinates to do so, and trying to get the rest of the people in the neighborhood about OCP's true intentions to rally them as well. She's also not going to let anybody, not even a member of her group who's having doubts about their cause, tell her that it's not worth it. She's the one who has enough morality to take in and help Nikko when she's being pursued by the Rehabs, and she also has enough faith in Robocop to know that he's on their side and that he'll be a very helpful ally, going as far as to have Dr. Lazarus be brought in to repair him. But, unfortunately, Bertha doesn't get to take part in the final standoff with the Rehabs or make any sort of major stand against them period since she's killed when they discover the rebels' hideout. Like I said, Pounder is able to make her the most memorable part of the rebels but, that said, she's hardly the most complex character possible. The other rebels are even less memorable, to be brutally honest. The one who really stands out is Coontz (Stephen Root), the "rebel" who's very cowardly, loses faith in the cause, and ultimately is revealed to be a spy for McDaggett. That revelation is very predictable but, at the same time, kind of surprises me because it makes me wonder how long Coontz had been working for McDaggett? Had he always been a spy or, when he started to feel that the rebels' cause wasn't worth the danger, did he go to McDaggett and offer information about them if he was paid for it? It doesn't matter, though, since he's killed in the firefight that occurs when the Rehabs find the base and McDaggett just writes his death off as a stroke of luck since they now don't have to pay him. I know of two other rebels who are more loyal to Bertha but that's basically all I do. One is Moreno (Daniel von Bargen), a balding guy who wears a gray mechanic suit. That's pretty much all I can say about him. The other one, Zack (Stanley Anderson), I know mainly due to his appearance, with his shaggy hair, red cap, and brown leather jacket. He also left an impression because he's the one who, after Bertha is killed, yells at Moreno for asking about her plan, citing, "Bertha is dead!" He quickly apologizes for it but, he shouldn't, because that's the only memorable thing that he did. There are other rebels but these guys are the main ones. So, yes, I can understand why some would not find this movie interesting since a lot of the people you're meant to be rooting for are hardly the most memorable or compelling characters (truth be told, I had those last two guys mixed up until I glanced at their scenes again!) and they're hardly the only ones.
As I said, none of the villains are particularly interesting or memorable either. The main villain, McDaggett (John Castle), the leader of the Rehabs, is supposed to be a ruthless, cold-hearted mercenary who will do anything to get his job done but, ultimately, he's so underwritten and Castle's acting is so by the numbers that he doesn't come across as intimidating in the slightest. In fact, his motives are a bit confusing to me. All of the past villains in this series had very clear motives but, I don't know what McDaggett wants. We assume at first that he's doing his job of making way for Delta City because OCP will pay him a great deal of money but that doesn't explain his inexplicable and vile hatred for anyone, including the rebels, the police, Robocop, or even the very citizens of Cadillac Heights, who gets in his way. The treatment the Rehabs give to the people when they're "relocating" them is overly cruel (not that I was expecting them to be nice but still) and his blatant murder of Lewis when she and Robocop are trying to keep them from driving out some people taking shelter in a church comes out of nowhere and feels like overkill on his part. We knew beforehand that he didn't want the assistance of the police, especially Robocop, but just out and out killing Lewis and attacking Robocop rather than simply arresting them for interfering with their job is extreme, to say the least. He even goes as far as to blame Robocop for Lewis' murder, which in turn leads to the CEO of OCP telling Otomo, the android that the Kanemitsu Corporation sends to aid OCP in the project, to go out and find Robocop. We later see that he has some sort of affiliation with the head of the corporation, Kanemitsu, himself and tells him that their deal was for Otomo to keep Robocop off of McDaggett's back while he continues with the Cadillac Heights project. Once he finds the rebels' hideout, he kills just about everyone, including Bertha, who resists him and takes Dr. Lazarus hostage, and, according to Media Break, once again made it look as if Robocop was responsible. After that, when Sergeant Reed and the rest of the police force refuse to help him clear out Cadillac Heights, McDaggett makes a deal with the Splatter Punks, a really maniacal street gang, for them to help with it instead.
Again, I assume that of these horrible things that he does is due to the payment that McDaggett and his men will receive from OCP for their services. However, during the battle between the police and the Rehabs, the CEO decides it would be ill-advised for them to kill the cops and attempts to shut the operation down but McDaggett, out of nowhere, pulls a gun on him to keep him from interfering. Obviously, he doesn't care about getting paid, especially since, later on, the CEO abandons OCP altogether, so, again, I have to ask, what does he want? I guess the CEO is correct when he asks McDaggett if he's gone war-crazy but, like I said, he seemed to have some sort of vendetta and disdain for the police and everyone else from the very beginning. You would assume from that scene where he's contacting Kanemitsu that he's the one paying McDaggett off but even Kanemitsu himself seems unsure of him, telling him that he has no knowledge of his methods. Maybe McDaggett is just a guy who, due to his military background, refuses to back down from a challenge but, I wish there was more evidence to support that because nothing he does makes any sense. He's so damn crazy that he actually has a small, nuclear bomb with him that he intends to use if everything goes down the tubes and it's connected as a failsafe device to two other Otomo androids (where the hell these other two robots came from, I can't even begin to figure out) who come in to battle Robocop during the climax at OCP headquarters. Moreover, he's actually angry at Nikko and Lazarus when they reprogram the androids to destroy each other, which activates the bomb, and tells them, "We're dead, you stupid slag!" Like I said in my
RoboCop 2
review when the Old Man told Johnson that RoboCain's rampage could look bad for OCP, whose fault is that anyway, especially since he armed the damn thing only a few minutes before! It doesn't matter because Robocop manages to use his jetpack to get both Nikko and Lazarus out of the building while McDaggett, due to his foot being burned by the exhaust from the jetpack (he screams like a little girl when that happens, as well), is unable to stop the bomb's failsafe device (why didn't he just do that to begin with instead of yelling at Nikko and Lazarus) and gets blown up along with OCP. I apologize if I missed some things that are more telling about McDaggett's motives but, nonetheless, I will say that this is a criticism of
RoboCop 3
that I agree with people on: the main villain is uninteresting, uninvolving, and his motives make no sense save for the the shallow explanation that he's just evil, which makes him feel very cartoonish and even more uninspired.
On the OCP front, we're missing the presence of the Old Man, who was written out of the story since Dan O'Herlihy was unavailable at the time of filming. I find that disappointing because, even though I didn't like how he was turned into such a typical corrupt businessman in the previous film, it would have still been nice to see him again. We're not even told what happened to the Old Man and the only scenarios that I can come up with is that he either died or was booted out when OCP was bought by the Kanemitsu Corporation. Regardless, in his place we have Rip Torn as the new head of the company who, like his predecessor, is never given an actual name and is only known as the CEO. While the Old Man was a steely, hard man who ran OCP with confidence and, for the most part, good business sense, the CEO is an uptight, loud mouth who seems to be running the company into the ground. All throughout the film, you can see that OCP is falling apart, with their stock plummeting due to their apparent incompetence in clearing out Cadillac Heights and employees actually committing suicide due to the grimness of the situation. Rather than a noble attempt to honor the Old Man's dream, it seems like the CEO's motive for having Delta City built is one last desperate attempt to recoup the company's losses and get it back on its feet. He allows McDaggett to do whatever he can to clear out Cadillac Heights because, if the city isn't ready for construction by a certain deadline, it will mean absolute game over for OCP. However, the CEO isn't aware of everything McDaggett does. He doesn't know that McDaggett himself killed Lewis, not Robocop, something that causes even more trouble for OCP and, during the climax, when McDaggett orders the Rehabs to plow through the blockade that the police have set up, the CEO realizes that McDaggett has gone too far and tries to pull the plug on the whole thing, feeling that it's not worth it to fire on and kill the police (although, he probably feels that way because of the backlash that will result from it). McDaggett, however, refuses to let him end it and threatens him with a gun to keep him from interfering. By this point, Lazarus has used Nikko's minicomputer to hack into the company's television signal and air their dirty laundry, causing all of their shareholders to sell their stock and ruin the company for good. The CEO, knowing that there's no point in fighting, abandons OCP and, while he later promises to make up for his mistakes, Kanemitsu decides he's had enough of him and fires him. While the CEO isn't a horrible character or anything in my opinion, I just really wish that we still had the Old Man instead.
Johnson and Jeff Fleck
One OCP member who is still here is Johnson, played again by Felton Perry and making him one of only four actors to appear in all three of these movies. This is the film where Johnson gets flanderized to the same extent that the Old Man did in the previous one. He may not have been the most moral person in the last two movies but he at least seemed to have a conscience that would kick in now and again and would tell him that OCP was going a bit too far. Here, though, he has no redeeming qualities at all and is as corrupt as the other executives who have come and gone before him. He acts as nothing more than a lapdog to the CEO and, in one scene before the climax, treats Sergeant Reed and the police department with a lack of respect that's very similar to the way Bob Morton viewed them in the original. Not only does he admonish Reed for allowing Robocop to destroy the Rehab center inside the police station and tells him that the money for the damages will come out of their salaries but, when Reed refuses to help McDaggett throw people out of their homes, Johnson tells him, "Now, sergeant... fifteen years on the force is quite an investment: your job, your pension. Maybe instead of worrying about these squatter people, you might think about your own family." That veiled threat of being fired is the last straw for Reed and he takes off his badge, throws it on the floor, and walks out of the station. All of the other officers then proceed to follow suit, with Johnson continuing to spout a bunch of crap at them, saying, "You can't do this. Look, you are employees of OCP, now, remember that." When they don't respond to that, Johnson gets desperate and yells, "You're jeopardizing your retirement benefits!" Like the Old Man in the previous film, I'm not happy about how they took a character who was, for the most part, very morally ambiguous and just made him an out and out asshole but, unlike the Old Man, he's not in the film as much so I don't have as much to complain about. And, at the very least, like the CEO, he does realize just how irrational McDaggett has become by the end of the movie and leaves along with his boss when it becomes clear that OCP is done for.
Another OCP executive who works with Johnson at Security Concepts is Jeff Fleck (Bradley Whitford), whom the CEO puts in charge of preparing Robocop to aid the Rehabs in clearing out Cadillac Heights. While he kind of cowers from the CEO and very quickly rushes to do what he's ordered to do, Fleck takes the position that he's given to push around others who are beneath, most notably Dr. Lazarus. He argues with her when she tells him that the reason that Robocop disobeyed a direct order when pursuing the rebels is because he made a choice, that he is Alex Murphy, and that his humanity is still very much present within him. Fleck then orders Lazarus to get rid of that humanity so Robocop will be easier to control and that if she doesn't, she can kiss her job goodbye. He's just an absolute dick to Lazarus in both this scene and in a later one where he calls her at her apartment and prompts her to turn on the news, where it's reported that Robocop turned on and killed Lewis. Lazarus, of course, doesn't believe it for a second but Fleck tells her that she can believe whatever she wants and that if she turns in her corporate ID, she won't be sued. After it's learned that Robocop has joined the resistance as well, things start falling apart at OCP and Fleck says that he thinks the CEO is losing it. He also makes the mistake of blaming the Kanemitsu Corporation for OCP's downfall right when he's entering the boardroom, which is where both the CEO and Otomo, who's been sent from Kanemitsu, just happen to be at the moment. After Otomo leaves, the CEO decides that Fleck, in combination with that insult towards Kanemitsu and the fact that he hasn't succeeded in doing what he was told, isn't worth keeping around and fires him. Despondent over this, Fleck pulls out a gun, walks out of the boardroom, and we hear him shoot himself in the middle of a conversation that the CEO has with Johnson immediately afterward.
While you would expect him to be an out and out villain, Kanemitsu (Mako) himself is as ambiguous a character as the Old Man was in the original film. While he is backing OCP's Rehab program to remove the citizens from Cadillac Heights and goes as far as to send one of his Otomo androids to aid them when they are unable to the stop rebels, it's implied that he's not aware of the very unorthodox methods that they're using to achieve that goal. At one point when Kanemitsu is talking directly with McDaggett, he comments that he's unaware of the commander's methods, with McDaggett responding that his methods are none of his concern. By the end of the film, with OCP ruined and the Rehabs defeated by the rebels and Robocop, Kanemitsu seems to now realize what OCP was up to and proceeds to fire the CEO before showing respect to Robocop by bowing in front of him. Maybe it is a good thing that the franchise didn't continue on from here because it's possible that Kanemitsu would have been turned into a cartoonish villain like the Old Man. And finally, I have to mention Otomo (Bruce Locke), the line of androids created by Kanemitsu that are featured in this film. However, at the same time, we shouldn't dwell on them either because they're hardly the most awe-inspiring things ever. Most fans hate them because the very idea of android ninjas cranks things up to a very ridiculous level but I don't like them simply because I don't find them to be that cool or intimidating in the slightest. When the first Otomo arrives in Old Detroit and begins looking for both the rebel hideout and Robocop, they're trying to pass him off as this silent, intimidating bad-ass who is going to spell big trouble for them but the whole thing comes across as very forced and unoriginal, completing destroying what they were going for. And if it's supposed to be a big surprise that Otomo turns out to be an android, it doesn't work at all (why would an android meditate, as he does when we first see him?) While Otomo does manage to give Robocop a run for his money during their battle in the abandoned rebel hideout, we know that he's eventually going to find a way to overcome and defeat him, which he does, since it's that type of film and the same goes for the other two Otomos who appear during the final battle. It is a little surprising when Nikko and Dr. Lazarus end up getting them to behead each other but still, you know that there's no way they're going to defeat Robocop. So, in my opinion, the film's lighter tone really hurts the effectiveness of what are supposed to be some real bad-ass androids.
I also agree with the complaints that another major problem that this film has is its more family-friendly tone. What made both the original
RoboCop
and even the second one special was their unique blend of comic book and pulpy concepts and visuals with an extremely grim, violent, and satirical portrayal of the near future. It really helped set the mood for how crap this world is and why something like Robocop would be needed. Plus, it just plain made the series stand out. By taking away that edge, among other things, it doesn't help this film stand out from the crowd at all. As much as I do get some enjoyment and fun out of this movie, even I can't deny that its watered down feeling and tone makes it seem no different than a bunch of other low-rent action movies that came out around that time. If Robocop himself had not been in this movie, nobody would think about it in the slightest, be it in a negative or positive light. And, like I said, removing the extreme violence delineates the need for Robocop himself. Yes, Old Detroit is hardly a great town in this movie as opposed to the others but the toned down nature of it lessens the impact tenfold. There are some bloody gunshot wounds seen here, notably when Lewis gets killed but there needs to be a lot more. We should be seeing the Rehabs executing the people who try to escape when they're being relocated, rather than just being told about later on and, if you really wanted to make McDaggett an absolute bastard of a villain, you should have had him brutalize Lewis in the same horrific way that Clarence Boddicker and his gang brutalized Murphy. This would have given more power to Robocop's desire to take revenge against McDaggett since he knows exactly what Lewis was going through in her dying moments and also would strengthen the connection he feels with the people of Cadillac Heights who have been forced out of their homes and, especially in the case of Nikko, been taken away from their families since he also certainly knows what it's like to lose one's family.
I'm pretty sure that the broader appeal that they were going for was also the reason why the satire that contributed to the series' specialness is barely here, since younger audiences probably wouldn't care or even get it. As I said back in my review of that movie, many felt that
RoboCop 2
didn't have the satire that the original did, which is certainly not true. While it wasn't as rampant in that film as it was in the original (although, I don't know if it's possible to satirize something as much as that movie did), it was still there and was still quite strong as well.
RoboCop 3
? No. It's hanging by a thread. While there are still Media Break segments and fake commercials to be found here, the only thing they pertain to are what's going on with the film's actual plot, like the Rehabs, OCP's purchase by the Kanemitsu Corporation, the plans for Delta City, and Robocop's apparent betrayal of Ann Lewis and the city itself. They don't go into the warped culture and media of the country or how the world around them is falling apart. There is one instance where you're seeing part of a clip from a reenactment of how Robocop has "killed" more people, which could be taken as how the media lies but it's skimmed over so quickly that it might as well have not even been there. The commercials that are played about Delta City and the Rehabs, the latter of which is a ridiculous-looking cartoon whose main character has his chin sticking about two whole feet away from his face, could also be taken as some satire but, as with the reenactment, it's not prevalent enough to be effective. And, by the way, I don't like how the female anchor (I don't know if it's supposed to be Jess Perkins, the female anchor of the previous two films, because it's a different actor) gets mad when reading that false story about Robocop killing more people and calls it bullshit. That, to me, hurts what was so awesome about the Media Break segments before: the smiling indifference of the anchors. It was absolutely hilarious to see these anchors talking about the most horrific news stories with big smiles on their faces and not really caring since it's not their problem. For one of them to actually get mad because she knows that the news she's reporting is crap doesn't feel right to me. Maybe that satire was just played out by this point but I still wish they had stayed the course. I guess the reason for the lack of satire was because Fred Dekker had the opinion towards it I mentioned above, that there was probably nothing else to satirize since the first two movies, especially the original, covered pretty much everything that you could. Still, it would have been nice if he did put in a fairer and more subversive amount than what he did because the lack of strong, biting satire is another thing that makes this movie feel run of the mill when compared to its predecessors.
Finally, while I mentioned this in my
RoboCop 2
review, I'll go into it again here: you have to love the irony of the situation. In that film, you had a bunch of conservative idiots who decided that it would be best if Robocop, since he had become popular with the kids, were more passive and more of a role model and, therefore, his head got filled with a slew of idiotic directives that made him in effectual at fighting crime. The thinking behind
RoboCop 3
almost exactly mirrors what went down with that subplot: despite how violent the previous films were, Robocop himself had become quite popular with kids due to toys, games, and possibly that short-lived animated series so Orion decided to tone down one of the actual live-action movies in order to cash-in on that. And, as a result,
RoboCop 3
was unable to survive at the box-office and live up to the expectations of die hard fans: i.e. it was ineffectual in doing what it was supposed to do. In fact, you could argue that Robocop being played by an actor other than Peter Weller made people react the same way that the characters did when he was acting all goofy in
RoboCop 2
: "Robo just doesn't seem himself." If that's not ironic, then I don't know what is. And, given the failure of the 2014, PG-13 remake, it's apparent that some things just don't change and some lessons are never learned. Too bad they can't send an electric current through it to fix everything in this instance.
A lot of the humor that was put into the film in order to lighten it up doesn't work for me, either. While there is a nice bit of dark humor involving an OCP executive jumping out a window when the company starts falling apart as well as Fleck taking his own advice about shooting oneself being a more dignified way to go after the CEO fires him, it doesn't go much farther than that. And, unfortunately, a lot of the silly humor is at Robocop's expense. Robocop has been funny before, with his deadpan line-readings and such, but giving him silly one-liner after silly one-liner hurts the character and does, as many have pointed out, make him feel more like a cheesy superhero than a bad-ass embodiment of the future of law enforcement. I don't mind his first line when he saves Lewis and the other cops from the Splatter Punks: "Police officer, no loitering," but other lines like, "You may want to call the fire department," "I hope you are insured," and, "Don't count on it, chum," really make me cringe. There not as bad as Arnold Schwarzenegger's obnoxious ice/cold puns in
Batman & Robin
but they're still bad. I must admit, though, that I do find something that Robocop says when he's fighting the first Otomo to be more than a little funny. Robocop gets knocked on his butt and tells Otomo, "You are under arrest for assaulting an officer..." and after Otomo slices off the fingers on his left hand, he adds, "...and for destruction of police property." It's cheesy as all get-out but I can't lie, I did smirk. There's other visual humor in this film that I didn't care for, like the sight of Robocop driving a tacky pink pimpmobile and some of the stuff that happens when the rebels are helping Dr. Lazarus repair him, notably when some fluids start spraying out of his torso and they realize that he's online and seeing the whole thing. And by the way, Casey Wong picking his nose? Really? We're stooping to that here? Is somebody going to fart next? But, in the film's defense, there are some things that people find to be silly that I actually like. I know that people hate it when Robocop is flying around with his jetpack near the end of the movie but, I like seeing Robocop being all heroic, coming in and turning the tide of the battle against the Rehabs by blowing up their heavy equipment. And some may hate it when Robocop, upon entering OCP headquarters and confronting McDaggett, tells him that it would be helpful if he resisted arrest but I like that because it shows that, everything he's done, Robocop is not interested in taking him but rather killing him out of revenge for Lewis. I just really like that stuff. But, all in all, I do agree that a lot of the humor in this movie is very silly and doesn't work.
Oddly enough, even though it's as far from the original
RoboCop
as you can get in terms of tone,
RoboCop 3
actually has a lot of aspects that relate back to that film. Most of dominant of all, as we'll get into presently, is the return of Basil Poledouris and a majority of the music that he wrote for the original, including the always awesome main theme. While the film opens in the same way that
RoboCop 2
did, with a fake commercial and then a bit of Media Break, you hear the theme for the show as well as the opening monologue, "Media Break: You give us three minutes, and we'll give you the world," for the first time since the original. You also see a brief shot of that stupid show,
It's Not My Problem
at the beginning and hear the famous line, "I'll buy that for a dollar! Nah ha ha!" ED-209 makes a return appearance during the scene at the beginning where the rebels break into the police armory in order to steal some weapons. There was a brief shot of him during the opening Media Break segment of
RoboCop 2
but here, he plays a very small part in the film's plot. Robocop's data spike is put back into use here at one point (the scene itself is reminiscent of when he used it to shuffle through a myriad of images in order to learn Emil's identity in the first movie) and, when Dr. Lazarus and the rebels are repairing him, the scene is shot from his POV and it brings to mind the scene of his "birth" in the original. Robocop also says, "Dead or alive, you're coming with me," here again (although, Peter Weller said it a whole lot better) and when he bursts into the OCP building for the final confrontation with McDaggett, McDaggett asks him, "How may I help you, officer?" which is like what the Old Man asked him when he walked inside the boardroom at the end of the first movie, and, as he did with Dick Jones, Robocop tells McDaggett that he's wanted for murder. The caption that tells us that the town we're seeing at the beginning of the movie is Cadillac Heights has the same font as the caption that told us that the building we were seeing at the beginning of the original movie was Metro West Precinct of Detroit and we see a similar caption when we get our first glimpse of the precinct here (yes, I notice this type of stuff; I'm a geek). Perhaps the most blatant callback to the original film comes in the form of actual shots of Clarence Boddicker and his gang shooting Murphy, which you see when Robocop thinks back to that moment (none of the graphic stuff is shown, though). And, finally, I must say that the film's actual look is very much akin to the gritty visual style of the original as opposed to the polished look of the second one, although I think in the original's case, it helped with the tone and feel that they were going for whereas here, it's a result of cheapness and, given the film's nature, doesn't work even close as well.
I wish I could say that the makeup and visual effects here hold up just as well as those from the previous two movies but, if I did, I'd be lying. First off, given the rating, there aren't as many graphic makeup effects in the first place and the ones that are here, like when Lewis gets gunned down, are adequate at best. The Robocop suit is still top notch and, as it was with Peter Weller, the scenes where his helmet is off and you can see Robert Burke's face look very good (at least, I think they do). However, the other effects look more than a little wonky. The part where the first Otomo is confronted by several rebels and one of them manages to knock his jaw out of place looks really silly and the maniacally grinning Otomo who shows up during the climax and ends up getting shot in the head by Robocop looks doubly so. As far as visual effects go, ED-209 is still brought to life by stop-motion courtesy of Phil Tippett, one of the last times he ever got to do that for a live-action film, I'm sure, but they're nowhere near as prevalent here as they were in the first two movies, especially in comparison to the previous one. In fact, aside from ED-209, I'm pretty sure there are no other instances of stop-motion in the entire film. They used some early computer graphics for the wideshots of Robocop flying with his jetpack during the climax and while I don't mind the idea of him using that gadget, I can't defend the CGI. It looks pretty dated, especially when Robocop flies really close to the camera, and it's obvious that this was during the very early days, when the technology was just then getting to the point where it could be used successfully and believably (plus, their having merely a fraction of the budget of
The Abyss
,
Terminator 2
, and
Jurassic Park
no doubt contributed to its looking very crappy). If the movie's effects are any indication, the writing was on the wall for Orion Pictures: they were clearly closing down for good during this time.
As far as action scenes go,
RoboCop 3
is definitely the weakest of the series. Some of the scenes are fairly enjoyable but the majority leaves a lot to be desired for and are a sign that Fred Dekker didn't have much money or time to make them more impressive. The first one takes place at the beginning of the film and the buildup to it is when Nikko, after having been separated from her parents, is chased by some Rehabs and is saved the rebels, who take her in. They break into the outside periment of a police armory building and, after Nikko hacks into the program of the ED-209 standing guard there to be, "loyal as a puppy," she has it blow open the main entrance to the building. After stocking up on weapons, including Robocop's jetpack (they don't know what it is but they take it because it looks expensive), they prepare to leave but are stopped due to the arrival of some cops who were alerted to what was going on when Zack attempted to open the door with a keycard that he took from the body of a dead cop. Nikko, however, turns ED-209 on them and has it shoot the crap out of their cars. The rebels use this diversion to drive off and their crime is then reported to some more cops who are relaxing at a doughnut shop, one of whom is Lewis. Upon getting the call, she and a couple of other cops (one of whom is played Shane Black, who played Hawkins in
Predator
and has also written some really good action movies) head out to their cars and see the rebels' van drive right past them. They immediately give chase and this is one of those instances where the budget hampers the excitement because this is hardly the most thrilling car chase ever. Its pace is pretty casual actually, with the only major things being a moment where Lewis' partners almost run into two other cars who have slammed into each other and a moment after that where Lewis herself has a little trouble maintaining control of the car, going right through a chain-link gate and causing sparks to fly as the car bounces on the road. Seeing that the cops are still on them, Moreno uses a device that allows him to mess with the traffic lights up ahead, causing Lewis' partners to slam into another car and Lewis herself to hit one parked on the side of the street, which results in her car flipping and skidding along the road upside down, which isn't too shabby, I must say. The rebels cheer, thinking they've escaped, when another police car appears and begins chasing them. You can probably guess who's driving this one.
Another brief bit of action occurs when Robocop first joins up with the rebels. He and Lewis investigate a church where he saw Nikko enter earlier and, upon doing so, discover that there are rebels as well as ordinary homeless people taking shelter in there. While Robocop does draw his gun solely for protection, he and Lewis are then called out of the building by McDaggett. who tells them that they are going to take the "squatters" out of the church and to the nearest Rehabilitation center. McDaggett warns them to step away from the building but Robocop and Lewis, knowing that this is wrong, hold their ground and Robocop tries to drive them away by shooting at their feet (he can't shoot them directly because of Directive 4). When that doesn't work, Robocop tells them to back off and Lewis, upon drawing her weapon, tells McDaggett that he'll have to go through them in order to get to the church. McDaggett tells her that he doesn't have a problem with that and shoots her down with his assault rifle. After Lewis falls, the Rehabs open fire on Robocop, who tries to shoot McDaggett but, again, Directive 4 prevents it and he shoots their van instead, hoping the explosion will do the job. It doesn't and McDaggett hits him point blank with a grenade fired from his rifle's built-in grenade launcher, sending him flying backwards into the church's front door. McDaggett orders his mean to cease fire and Robocop, while very badly damaged, manages to get on his knees and turn himself around towards the door. The rebels come to the door and Bertha throws smoke bombs at the Rehabs in order to keep them from being shot. Moreno and Zack give Robocop cover as he brings Lewis in, leading into the scene where Robocop promises to get McDaggett for what he's done. The rebels, unable to hold back the Rehabs for long, escape from the church using a secret exit, with Robocop deciding to join them. After they leave, the Rehabs manage to break into the church and while McDaggett is initially frustrated to find that the building is completely empty, he realizes from the OCP device used to track Robocop's movements that he's using the sewer system to escape. After the rebels manage to get the barely functioning cyborg into their hideout, he attempts to warn them about the tracking device and Nikko, upon realizing what he means, takes the tracker off of his back. Moreno proceeds to throw it down a nearby tunnel and right beneath a booby-trapped manhole, which explodes when one Rehab officer tries to uncover it.
After a small scene where the first Otomo gets rid of three rebels that he comes across and takes something from one that shows him where the hideout is, the next bit of action comes after Robocop is repaired by Dr. Lazarus and, upon remembering his promise to Lewis, heads out to clean McDaggett's clock since, with Directive 4 having been removed from his programming, he can now do so. He arrives at the police station and, upon being directed to it, heads down to the Rehab staging area there. He proceeds to use the flamethrower on his gun arm to set a desk and a map on the wall ablaze. One Rehab steps in front of him and fires at his chest with an assault rifle but Robocop, of course, is not phased by this and proceeds to fire his flamethrower at a crate of explosives. The soldier attempts to run away but the ensuing explosion knocks him off his feet, allowing Robocop to walk up to him, pick him up by the front of his shirt, and ask him where McDaggett is. Soon afterward, Robocop arrives at the hotel where McDaggett is hiding after having been informed by Coontz that the cyborg was heading towards the police station for him. After killing some sleazy Rehabs who are hitting on this young girl outside of the hotel, Robocop heads inside and goes straight for McDaggett's room after being told by the manager where it is. He tears his way through the sticking elevator door and when another Rehab pulls a gun on him, he shoots it out of his hand, although he needlessly keeps it suspended in the air by repeatedly shooting it before moving on. He shoots through the door of McDaggett's room and then makes his way inside. He's about ready to shoot McDaggett but is distracted upon seeing Coontz there, giving McDaggett time to grab the briefcase containing the small nuclear device given to him by the Kanemitsu Corporation and escape by diving out the window. After safely landing on the sidewalk outside, McDaggett gets aboard a nearby Rehab bus and orders the driver to take off down the street. Robocop follows him outside and commandeers the only vehicle that he can find, which is this really tacky, pink-colored pimpmobile with red lights around the windows and windshield, seats with tiger-patterned upholstery, and fuzzy dominos hanging from the rearview mirror. The pimp himself turns around and threatens Robocop upon hearing him say he must borrow the car but quickly drops the knife he had in his hand upon seeing who it is. Robocop catches up with the Rehab bus that McDaggett is on, prompting the commander to arm himself and fire at Robocop from the bus' rear door. He shoots a large hole in the car's windshield and Robocop takes advantage of it by shooting back at McDaggett through it. McDaggett continues shooting at Robocop as the chase goes around curves and down more streets, with the pimpmobile being gradually destroyed in the process. Not does the windshield and the front of the car take damage but at one point, the door on the driver's side falls off. McDaggett has the driver cover him while he loads a grenade launcher and fires it at Robocop, blowing off more sections of the car, including its hood, in the process. Robocop dodges the subsequent blast from the launcher but McDaggett manages to score a couple of more directs his afterward, going as far as to blow the roof off of the car. But, despite the front and a little bit of the back of the car burning, Robocop continues his pursuit until he and McDaggett come across some kids playing street hockey. After the Rehab bus drives past the kids, McDaggett throws a bunch of money into the air and when the kids run out in the middle of the road to catch it, Robocop is unable to get around them and has to give up the chase.
Back at the rebels' hideout, Coontz comes back from his meeting with McDaggett and makes his betrayal known by pulling a gun on them. Zack comes up behind Coontz with his own gun and disarms him, but the rebels quickly realize that Coontz has told the Rehabs where their hideout is and everyone attempts to evacuate. The Rehabs quickly smash their way into the place with guns blazing and Bertha attempts to stop them with her shotgun but is shot a bunch of times in the process. With her dying breath, Bertha tells Nikko and Dr. Lazarus to go and, as a result, while the Rehabs continue to clean house, killing quite a few rebels in the process (although they have some casualties themselves), Lazarus leads Nikko to a bit of grating that leads to the street. She manages to pull the grating up just enough so that Nikko can slip through and, while Nikko begs for Lazarus to join her, the scientist makes her go on without her. After Nikko escapes, Lazarus is captured by McDaggett, who orders her to be taken back to OCP.
As the film's climax begins and the Rehabs, partnered with the Splatter Punks, prepare to march on Cadillac Heights while the cops and the residents get ready to defend their homes, Robocop arrives at the vacant rebel hideout, where he is ambushed by Otomo. The android rushes at him and kicks him down twice, and when Robocop draws his gun, Otomo quickly tumbles toward him, knocks the gun away his kitanna sword, and slices the fingers off of his left hand when he attempts to defend himself. Robocop also gets half of his arm sliced off and, with his power system beginning to fail, he scans the area for Otomo, who has suddenly disappeared. We're then shown that back up top, the battle between the police and the Rehabs has begun, with one of the Splatter Punks using a grenade launcher to blow up a car behind the barricade. After that, we cut back to Robocop's skirmish with Otomo, who jumps over the cyborg from behind and knocks him down by hitting him in the face with the handle of his sword. Otomo then starts walking towards him while swinging with his sword but Robocop manages to grab his gun arm, attach it, and use its small missile launcher to blow Otomo's head off. Robocop, weak from his drained power source, then seems to collapse as the film cuts back to the battle, which is now a full-on firefight. This is when McDaggett appears to completely lose it by ordering his men to fire on the police and then threaten the CEO with a gun when he attempts to stop him. Meanwhile, with Lazarus uses Nikko's minicomputer to tell everyone in Detroit about how corrupt OCP truly is, we continuously cut back to the battle, which isn't going all that well for the police but there's a glimmer of hope when Robocop, upon hearing Lazarus' voice from a nearby television (I don't know how that managed to get turned on), regains consciousness and manages to crawl towards his jetpack. At the battle, things really get bad when the Rehabs bring out a tank and begin firing on the cops shooting at them from nearby rooftops. Zack gets hit in the arm as well but just when things look their bleakest, Robocop arrives using his jetpack and tips the scales in the cops' favor by blowing up the tank and shooting down the remaining Splatter Punks.
After seeing this, and knowing that Robocop will be coming for him next, McDaggett arms the nuclear bomb and waits for the cyborg to arrive, while Lazarus manages to escape from the room she's being held in. Robocop then arrives by crashing through the boardroom's window and, after detaching his jetpack, prepares to settle the score with McDaggett. That's when a second Otomo android comes up behind him and even though he quickly swings around and shoots its head, it doesn't stop it. Yet another Otomo then enters the room and draws its sword as well. As both Otomos circle around Robocop, the CEO, Johnson, and the rest of the Rehabs realize it's not worth it and run out of the room. Nikko and Lazarus then arrive to see both androids knock Robocop down but, before they can deliver the blows that will destroy him, Nikko uses her minicomputer to reprogram the Otomos and make them behead each other. However, McDaggett tells them that doing so has activated the bomb since the Otomos were programmed with a failsafe device. Robocop, however, is not down and out yet and quickly rolls onto his jetpack, activates it, burning McDaggett's foot and making him scream like a girl in the process, and flies towards Nikko and Lazarus, who grab onto him. Robocop proceeds to fly them out of the building while McDaggett tries to crawl towards the bomb and deactivate it (again, if he could do that, why didn't he do so to begin with?) but fails and gets blown up along with the OCP building. As you can no doubt tell, a major problem with these latter action scenes is that Robocop gets his ass kicked far too much, succeeds either by the skin of his teeth or by being saved, and doesn't even directly kill the main villain, which hurts the idea of him going out to avenge Lewis' death. And plus, even the major action scenes feel rather constrained and small when they should feel big and glorious. It's a real pity that the original trilogy ended on such a lackluster bit of action and Robocop didn't even kill the main bad guy himself this time around.
As I mentioned before, a big plus for me is the return of Basil Poledouris and the great music that he created for the original film. Like before, Poledouris comes up with some really good stuff, most notably when it comes to the reintroduction of the Robocop Theme itself. While I like the way it sounded in the original more, I don't at all mind the more heroic march sound to it here; in fact, this version of the theme works well for this type of movie, which is meant to portray Robocop in a much more heroic light than before. I also like the variations of the theme that are used, like the slow, soft version that you here when Robocop gets up having been repaired, grab his helmet and arm gun, and heads out to deal with McDaggett. Another nice, emotional version of it comes when Robocop returns to the rebels' hideout to discover that they're all gone and that the place has been torn to pieces. It's nice to hear some other parts of the original score to, like the soft, emotional theme that's used to get across the feeling of melancholy and sadness and the suspenseful, building bit of music that you hear when something major is about to happen. The new parts of the score, while not as memorable as what Poledouris wrote for the original, are still nice to listen to, such as the music that plays when Lewis and her partners are pursuing the rebels at the beginning or the bit that plays when Sergeant Reed decides that he doesn't want to be a cop for OCP anymore if it means he'll have to throw people out of their homes and the other officers follow suit. So, while the movie itself might not achieve this, if nothing else, the music score gives you some of the feeling that you got from the original film, which is more than I can say for Leonard Rosenman's score for the previous film.
RoboCop 3
can hardly be called a great film or a fitting closure to the original film trilogy. Its reduced budget and the problems that Orion Pictures was having at that time are very evident, Robert Burke, as serviceable as he is, is certainly no Peter Weller, a lot of the characters are forgettable, the film suffers from its being toned down to a PG-13, the satire that made the first two films memorable is hardly even here, and there aren't that many action scenes and the ones that are here leave a lot to be desired for. So, with all that said, and given how I went into the multitude of problems this movie has, you might be wondering why this isn't an installment of Movies That Suck. The reason for that is, even though this movie is no masterpiece, it's not excruciating for me to watch either. I know a lot of people disagree with this but for me, the film's 105 minute running time goes by at a decent pace and, therefore, it's something that I can easily put on and watch if I have some time to kill. Plus, there are some good aspects to it, like the humanity of Robocop here, his being out for revenge for the death of his friend, a few characters that I genuinely like, such as Dr. Lazarus, and a nice return of the original music. Ultimately, while it killed both the original
RoboCop
movie franchise as well as Fred Dekker's career, to me
RoboCop 3
, at the end of the day, is a decent time-waster, which is a good enough reason for me not to hate on it like so many others do.