Halloween H20
's ending seemed pretty final. Michael Myers had survived being shot a bunch of times, blown up and sat on fire, falling down a mineshaft, and countless beatings but getting his head cut off is something that nobody, not even him, should be able to survive. At least, that's what I thought. But when I heard rumors in the early 2000's that they were currently planning yet another
Halloween
movie, I was absolutely baffled. Even though I hadn't seen
H20
yet myself, I knew how that film ended so I was thinking, "How in the hell is Michael still alive? Is he going to be like the headless horseman in this film or something?" Needless to say, I was rather curious as to how they were going to explain away his decapitation but I wouldn't learn for quite a while. I didn't see
Halloween: Resurrection
in the theater (at 15, I was still too young to see an R-rated film without a parent and neither my mom nor my dad was going to take me to see a bloody horror film) and I didn't read a single review on it (although I knew that it wasn't very well liked). I finally saw the movie that December when I got it on DVD for Christmas but by then, my cousin, who had already seen the movie, told me how they explained Michael's still being alive and also informed me that he finally managed to kill his sister at the beginning. He actually thought the explanation was really intelligent whereas I wasn't quite sure how I felt about it myself and I was shocked to learn that Michael managed to kill Laurie as well. But, I decided to reserve judgment until I saw the film for myself and when I finally did that December, while I didn't think it was an awesome movie by any means and certainly not one of the franchise's shining moments either, I enjoyed it for what it was: a dumb slasher movie. Certainly, there were better ways they could have used Michael Myers and the movie's concept and execution wasn't original in the least but during this time, I still felt
H20
was overrated and didn't care for it as much as everyone else so that's probably why I got more entertainment out of
Resurrection
. And that was a feeling that I held for a very, very long time.
However, things change over time and just as my opinion on
H20
has become more positive in recent years, my opinion on
Resurrection
has become more negative. As I approached this review, I came to the realization that I hadn't seen this film in its entirety in a long time and certainly not since I had warmed up to
H20
. As I've down with a few of these reviews, I figured I'd best watch the film again before I dived headfirst into this write-up and after doing so... ooh, boy, this movie has not aged well at all. I still don't hate it and it does still provide me with some cheap entertainment, which is why this isn't a ranting installment of Movies That Suck, but that said, they definitely should have ended it with
H20
. Despites its flaws, that was the perfect cap on the series. This, however, is a purely by-the-numbers slasher film that's filled with a lot of clichés, a bunch of uninspired characters, no scare factor at all, and just feels like they didn't put much, if any, effort into it whatsoever. I can definitely see what John Fallon of Arrow In The Head meant when he said that in this case, they completely forgot about filmmaking and just decided to make a product. In addition, the whole thing just feels very tired by this point. While the
Halloween
series had a lot of good entries over the years, making another movie after
H20
's definitive, crowd-pleasing ending felt like they were just beating a dead horse and
Resurrection
more than qualifies as a prime example of that. While I do maintain that I can get some enjoyment out of it and I can definitely watch it any day of the week over what came next, the writing was on the wall that they should have left it alone.
It's been three years since the events of
Halloween H20
and Laurie Strode is now in a psychiatric hospital after she had accidentally beheaded a paramedic whom Michael Myers had switched clothes with in the confusion. One night in October of 2001, Michael, who has been in hiding for the past three years, manages to sneak inside the hospital and, after a brief confrontation with Laurie, manages to finally kill her. Some time after accomplishing this task, Michael returns home to his old house in Haddonfield. However, his house is to be the focus of a reality show where six college students spend Halloween night in it and try to find clues as to what led him to become the notorious killer that he is. However, as the night progresses, not only do the students learn that the show isn't exactly honest about a lot of things, including what they find inside the house, but Michael soon makes his presence known and begins attacking and killing each of them. Now, with no way out of the locked house, the lone survivor must depend on a cyber friend of hers to avoid becoming Michael's next victim.
Resurrection is quite simply one of the most uninspired and overused sequel subtitles imaginable, just like how The Beginning is typically the subtitle for a prequel. What's more, that subtitle has nothing to do with this movie at all. At least with the movie
Alien: Resurrection
, it made sense given how they brought Ripley back from the dead by cloning her. What resurrection takes place here? Michael Myers wasn't even dead! In fact, that wasn't the original title for the film; it was originally going to be
Halloween: The Homecoming
, which is what it was called when I first heard about it. While that title isn't the best either, at least it makes more sense seeing as how Michael does return to his childhood home here. But the producers wanted a title that said point blank that Michael was alive and so, the film was renamed
Halloween: Resurrection
in early 2002. I didn't even know that the title had been changed until I saw some TV spots for it while I was on vacation that summer and while I wasn't aware at that point how overused the word "resurrection" was when it came to sequels, I still thought that was an odd choice. Not having yet learned how Michael survived being decapitated, I wondered if they did indeed call it that to explain how he came back. But, nope, as we'll see, I was far off. And their reasoning for giving it that title is stupid as well? You know, if there's a new
Halloween
coming, I'm sure people would deduce that Michael is still alive... that is, if it were about him, which actually almost wasn't the case. Dimension did consider honoring the ending of
H20
and do a
Halloween
movie without Michael but Moustapha Akkad reminded them of how badly that idea bombed back in 1982 with
Halloween III: Season of the Witch
so they immediately dispensed with that notion. They could have just made something else entirely as well and let the series rest but, as long as there was money to be had, that wasn't going to happen.
When it came to choose a director, Dimension initially considered Whitney Ransick, who had mostly done television work and a few films here and there that I have never ever heard of and when that didn't work out, they tried to get Dwight H. Little, director of
Halloween 4
, to return to the franchise but he turned them down as well. Ultimately, though, they did get another series alumni back into the director's chair again: Rick Rosenthal, director of
Halloween II
. I don't know what enticed them to get Rosenthal back. Maybe they felt that he'd made a good film back in 1981 (which he did) and hoped that he'd be able to replicate that success with this entry. It couldn't have been because of the stuff he had done since
Halloween II
, that's for sure. In the years since his rather impressive debut, Rosenthal had mainly directed a lot of TV work, on little known shows like
Darkroom
,
Code of Vengeance
, and such, as well as much more popular ones like
The Practice
,
Law and Order: Special Victims Unit
,
Strong Medicine
, and
Crossing Jordan
. He had directed a few films, though none of them were particularly successful or even that well-known. We're talking about stuff like
American Dreamer
with JoBeth Williams,
Russkies
,
Distant Thunder
, and a notoriously bad made-for-TV sequel to a classic Alfred Hitchcock film,
The Birds II: Land's End
, which was so awful that it prompted him to use the Alan Smithee pseudonym. According to IMDB, the only theatrical film he's done since
Halloween: Resurrection
is something called
Nearing Grace
in 2005. Otherwise, he's mainly done more TV work on shows like
Smallville
,
Buffy the Vampire Slayer
, and the revamp of
90210
. In any case, when it comes to his directing of
Halloween: Resurrection
, all I can say is that Rosenthal was a much better director when he first started out. Maybe it was the script he had to work with or interference from the studio, which it seems there was a fair amount of, but whatever the case, it's hard for me to believe that this was directed by the same guy who did what I thought was a very worthy follow-up to John Carpenter's original classic back in the day. Far unlike that movie,
Resurrection
has no style or mood whatsoever and makes me wonder if Rosenthal just forgot how to direct an actual horror film or something.
Halloween: Resurrection
is known for starting with a prologue that wraps up the loose ends concerning Laurie Strode and the ending for
H20
, a prologue that also has nothing to do with the main plot of the film that begins after the opening credits conclude so let's start here first. Now, I had known from the TV spots that I saw for the film that Jamie Lee Curtis was back in this movie but I assumed that she would be in the entire movie, maybe trying to stop the people from spending the night in Michael's house or at least having a final confrontation with her brother at the end. So, when my cousin told me that not only was she only in the first fifteen minutes of the film but Michael actually killed her, my jaw dropped. I couldn't believe that they would just kill off this beloved character that had been such a well-remembered aspect of the series since its inception. Turns out, that's the only way they could get Curtis to play the role one last time, if they killed her off so she wouldn't have to do anymore. I think after Dimension completely foiled her intention to end the series by killing Michael in
H20
, Curtis decided that she'd had enough, that they were never going to stop making these movies, and she wanted nothing more to do with it, which is no doubt similar to the way John Carpenter must have felt after a certain point. But, even though she only did the film to make sure that both she and her character would be vindicated from the series (as well as collect a nice paycheck, I'm sure), I thought Curtis still did well with what she had to do. I really feel bad for Laurie when you first see her sitting in her room in the psychiatric hospital, looking absolutely destroyed and sullen. It's really sad to see that her life ended up this way: being institutionalized due to accidentally killing an innocent man, the guilt she feels from that, and being taken away from her son (whose picture you can see on the wall behind her), particularly after what felt like a triumph at the end of
H20
. But, despite her despair, she's also smart enough to know that Michael will come for her sooner or later and she makes sure that she's ready for him by simply pretending to take her meds and ambushing Michael from behind when he breaks into her room.
Unfortunately, they not only have Laurie get killed by Michael but it happens in the stupidest, most butt-hurt way imaginable. After Michael bursts into her room to kill her and Laurie whacks him in the back of the head with a light, he chases her up to the roof where she's rigged a pulley system with a rope that catches his foot, hoists him up over the side of the roof, and she proceeds to grab his dropped butcher knife to cut the rope and drop him. So, this is Laurie's big plan? First, after everything that Michael has survived, does she really think that dropping him off of a rope is going to kill him once and for all? I know she's in a psychiatric hospital but, according to one of the nurses who checks on her at the beginning of the movie, she managed to get up on the roof a couple of times, no doubt to get it rigged up so, if she's able to do that, you'd think she'd be able to find another way that would more definitively kill him. Plus, she had three years to prepare for Michael and this was the best she could come up with? In any case, just as she's about to drop Michael, he starts grabbing at his mask and Laurie, remembering the tragic mistake that she had, wants to be sure this time and tries to take his mask off to make sure it really is him. Some have questioned how she would evcn know what his face looks like but, remember, she's saw it at the end of the original
Halloween
and, as brief as that was, I doubt that she's forgotten what he looked like and could probably recognize it after twenty years of aging. However, what gets me is that she even thought that this might be another instance where it isn't really him. Lady, who else would burst into your room specifically, wearing this outfit and mask, and attempt to knife you to death while you're in bed? Do you think he once again changed clothes with somebody while he was in the middle of chasing you up to the roof? And even if it's not him, it's clear that this person still wants you dead, so I think it'd be okay to do away with him. Everybody would, or at least they should, think it was self-defense. But, nope, Laurie attempts to take Michael's mask off, he grabs her, they both tumble off the side of the roof, and Michael manages to grab the knife and stab her in the back. I do like that, before Michael lets her fall to her death, Laurie actually kisses him and says, "I'll see you in hell," but it doesn't change the fact that this is a rather undignified way for Laurie to go out. If they absolutely had to kill her, they could have at least come up with a better way to do so, like maybe have her get killed after another confrontation and fight with Michael. It's the same principle that applies to Rachel's pathetic death in
Halloween 5
: after everything she put him through during the previous film, at least let it be a bit of challenge for him to finally kill her.
Now, let's talk about their explanation as to how Michael is still alive after he was apparently be-headed at the end of
H20
. As we're shown, after Laurie stabbed Michael numerous times and sent him falling off the balcony onto one of the tables in the dining hall, the police arrived and a paramedic walked in to find Michael's body. After he took the knife out of his hand, Michael suddenly sprung to life, grabbed him by the neck, crushing his voice box, and slammed up against the wall, eventually choking him to the point where he passed out. Seizing the opportunity, Michael switched outfits with the guy and put his mask on him, so it was the paramedic whom Laurie decapitated after that big crash. Despite my mixed feeling when my cousin first told me about it, the minute I actually saw the movie, I knew it was complete crap even though, as a devoted fan of the series, I tried to tell myself that it wasn't. Let's count the ways in how this is a bunch of bull. First off, why did that one lone paramedic go into the dining hall while everyone else stayed outside? Is that standard procedure for investigating a crime scene? Second, Michael must be pretty dang fast when it comes to swapping outfits with someone because, as long as that would usually take, you'd think somebody would walk in and check on the paramedic, asking, "Why you taking so long?" Third, when Michael walked out wearing the paramedic's outfit, did nobody notice that he wasn't the same guy who went in there to begin with? And since Laurie, as we've said, knows what Michael's face looks like, shouldn't she have seen him and been like, "Oh, crap, that's him! He's going to get away!" Fourth, there's actually a shot in this flashback of Michael in the paramedic's outfit, carrying his butcher knife! Wouldn't somebody have come up to this supposed paramedic and ask, "Why are you walking around with that knife? That's evidence." I'm not going to ask what exactly Michael's plan was because they eventually did learn that he was still out there when they found the paramedic's decapitated head and even if Laurie hadn't killed him, that guy would have woken up eventually and somebody would have had to deal with. Either way, it wouldn't be a mysterious that Michael was still alive so he obviously meant that as just some sort of distraction so he could get away. But now, let's get into how this doesn't at all fit with what we saw during the final part of
H20
. If that was indeed a paramedic and not Michael, then why did he lunge at Laurie after he managed to get out of the body bag? How did he survive going through a windshield and after that, getting crushed between a fallen tree and a coroner's van? And even though he couldn't talk, he still could have taken the mask off. If I were to wake up after being rendered unconscious, I think I'd realize that there was something on my face, like that mask. That's not exactly something that's difficult to notice. It's possible that they even knew they were going to do this when they made
H20
because they had a moment where "Michael" appears to pull at his mask after he awakens from being crushed in-between the log and the van but even if that's true, nothing about this connection between the films adds up at all.
As far as characters go in this prologue, the only person whom I find to be kind of interesting is Harold (Gus Lynch), this patient who's an expect on serial killers, is always quoting data about them as well as dressing up like them (when you meet him here, he's wearing a clown mask to be like John Wayne Gacy), and, according to the guards, appears to be able to escape from his room at ease. I do find it interesting how Michael, after killing Laurie, walks into Harold's room, gives him the bloody knife, and just walks away while Harold spouts off information about him. I don't know why that makes me smile but it does, I guess because Michael's smart enough to know that by giving Harold the knife, he'll take the blame for the deaths of the guards and Laurie, and how Harold is too wrapped up in realizing that Michael is back (or too crazy) to realize that he's going to take the blame for it. Heck, he might not even care. The rest of the characters here are pretty standard as far as horror films go. You have the two dumb guards who are so stereotypical of this genre, the young nurse who becomes curious about Laurie's being in lockdown, and the older nurse whose only purpose is to spout exposition and tell her (and us) about what happened in-between the scenes that we saw during the latter half of
H20
and how Laurie ended up in the asylum, which, I want to quickly add, isn't a badly designed place and the laundry room in the basement where both security guards get killed does have a bit of a mood to it (not much of one, though).
You know, as much as this opening sucks, if it had to exist, then I kind of wish that the movie was flipped the other way, with the main plot involving the reality show at the old Myers house happening first and then having Michael, after springing to life in the morgue and, predictably, killing that female coronor and escaping, find where Laurie is and go in and kill her. It would still suck that Laurie got killed after all but at the very least, even though the ending of
H20
would still have been infinitely better, the original
Halloween
series would have had a concrete conclusion. But, as it worked out, the series ended on a stupid, predictable jump-scare that will almost certainly never be followed up on and given any closure.
Now that we've talked about the specifics of the prologue, let's begin talking about the movie as a whole. A good percent of the characters in this film are hardly anything special but there are a few that I don't mind, with one of them being the lead, Sara (Bianca Kajlich). She's definitely not one of the most impressive leads we could have had, though, and her character is pretty generic: the quiet, smart girl who's not like everyone else around her and doesn't even really want to participate in the reality show because she doesn't want to be famous or draw attention to herself but is pressured into it. In other words, she's kind of a low-rent version of how Laurie Strode was in the original
Halloween
. The good thing about her is that she's not annoying or obnoxious but that said, there's still not much to her. She doesn't have the most expressive face and her voice is pretty monotone for a good chunk of the movie. I will say that they do show how intelligent she is when we first see her in her psychology class, with her not only being the sole person who's paying attention to the professor (a cameo by Rick Rosenthal, by the way) but able to answer his question as well. However, at the same time, that never comes into play at all, even though you'd think they'd do something with it since they're talking about the dark part of the human psyche and Michael Myers certainly embodies that; plus Sara gives some thoughts as to why he became the way he is. But, most of what she does during the third act of the movie is scream a lot (not really her, though, because Kajlich has said that she can't scream very well) and run from Michael. She even does something really stupid like scream even when her cyber-friend tells her not to. Granted, she does help Freddie when he's fighting Michael as well as fend him off with a chainsaw at one point, so she's not totally helpless, but she still has to be saved by Freddie at the end of the movie. All in all, she's certainly not the worst character in the film and I didn't want to see her get killed either but she's hardly an inspired lead as well.
Let the Dangertainment begin out... of this motherfucker.
I'm going to get a lot of crap for this but, not only do I not mind Busta Rhymes as Freddie, I actually like him as well. I know he's one of the most maligned aspects of the movie and the character he's playing isn't the most decent human being but I can't help it, I do enjoy him. I don't think he's that bad of an actor. He has a certain energy and natural likability and charm that I really gravitate towards. I was always entertained whenever he was on camera. I like some of his lines, like when, after Sara gets startled during an interview for the reality show and screams so loud that a nearby glass explodes, he goes, "Now
that's
what I'm looking for. Ooh!" or when he's watching that martial arts movie in his motel room and he's going, "Get his ass! Get his ass! Get his ass! Who could be better than Wat Chun Lee? Whoopin' everybody's ass while he's smoking a cigarette," and when there's a knock at the door, he goes, "Who the hell's knockin' on my door at this time of night? Whoever it is is keepin' me from seeing Wat Chun Lee whoop some ass." I'm sorry but I love that stuff. And I always laugh at the part when he's dressed up as Michael, is confronted by the
real
Michael, and berates him because he thinks it's someone who works for him. Yes, he should have gotten butchered for that and it doesn't make sense for Michael to just stand there and take it but it's so damn funny. "Goddammit, what the hell is wrong with you?! I said, 'What you lookin' at me like that for?" Huh? Huh? [Taps Michael on the forehead.] You don't get it? You don't get it? Your shit ain't workin' up there or somethin'? You need to take your ass back into the garage with Nora. That's your job. Go back into the garage and help her ass out. Go do your job. I left the backdoor unlocked for your ass to go back into the garage. That's what I did. You need to get the hell out of here! Go on scoot, skedaddle! Get the fuck out of dodge!" Then Michael actually walks and he goes, "Goddamn. What the hell's somebody got to do to get a little decent help up in this motherfucker?" Believe me, I used to chastise myself for laughing at that but I just figured that if it makes me laugh, it makes me laugh.
Like I said, you found out that Freddie isn't exactly a trustworthy person and that the entire Dangertainment reality show was a set-up, that he and his crew rigged the Myers house with a bunch of crap, made the participants look like morons live on the internet, and even he freely admits that he has no qualms whatsoever about what he did and only wants a paycheck from it as well. So, yes, Freddie isn't the most decent human being you could think of... but he does redeem himself. Once he discovers that Michael is indeed in the house and has killed everybody except for him and Sara, he gets Sara and attempts to get them both out. He could have just left her behind and saved himself but he didn't and he clearly recognizes it's his fault that so many people are dead because he tells Sara that he had no idea whatsoever that Michael was there. And when they run into Michael, he actually fights him instead of running away like a wimp, keeps him from hurting Sara, and even manages to get some nice hits on him as well. While it is ridiculous to see Michael Myers taking so much abuse from Busta Rhymes, especially when keeps doing those silly kung-fu noises, he doesn't totally dominate him in the fight and would have even gotten killed at one point if Sara hadn't intervened. The same goes for the fight between him and Michael in the burning garage at the end of the movie: he gets knocked back by Michael at one point and if he hadn't regained consciousness when he did, Michael would have killed him. And speaking of that confrontation, it happened in the first place because he broke into the garage to save Sara. Yet again, he could have saved himself but instead, he did something admirable by once again fighting Michael to save her life, especially after he'd been stabbed in the shoulder a few times. Plus, again I love his lines, like, "Trick or treat, motherfucker!" "Burn, motherfucker! Burn!" and, "Hey, Mikey, happy fuckin' Halloween!" So many lines like that in this scene was a tad bit overkill but I still enjoy it. Finally, after everything they've both been through, Freddie, realizing that he was being this dickish earlier and that it cost a bunch of people their lives, shows that he now has no love for the media when the news reporters shove cameras in their faces and ask for statements, seeing it as disrespectful, which it is. You got to love it when that one guy asks him how he's feeling and he says, "You want to know how I'm feelin' right now? Feel this!" before doing something to mess up the camera. I may not like his music (I don't like hip hop or rap at all, for that matter) but I can't lie, I do get entertainment out of watching Busta Rhymes in this movie.
I also don't mind Sean Patrick Thomas as Sara's friend, Rudy. I thought he was rather likable and funny, with his quirk of being obsessed with food and feeling that a poor diet is what causes some people to become murderers. He thinks that the reason behind Adolf Hitler's madness was because of his vegetarianism and he mentions another guy who committed murder and only ate Twinkies. Another moment that I like is when he and Jenna are getting high and when Sara bursts in on them to tell them that she saw Michael, Rudy is laughing like crazy and telling her that there's nobody in the house besides them. I can relate because I've been in those moods where you're so out of it that you'll laugh at anything (and no, I wasn't stoned) and therefore, I found that rather funny. I also like how Rudy has some integrity. When he finds out that the whole thing has been rigged for sensational purposes, he decides to forget the money and just quit, as does Sara. Finally, I have to admire that he chooses to fight back against Michael, going so far as to divert his attention away from Sara towards himself. As Michael corners him in the kitchen, he tells him that he should try a little less protein in his diet to control his violent tendencies and proceeds to whack him with a rolling pin, throw some stuff in his eyes, temporarily blinding him, and uses two knives to fend him off. Unfortunately, the door is locked (I love the way he says, "Oh, shit,") and Michael is able to overpower him and kill him in a pretty nasty way. As you may know by this point, I always like it when someone goes out as a hero and Rudy certainly qualifies here.
"I AM distracting."
Yeah, but not in the way you think.
As much as I like Rudy, I can't say the same for Sara's other friend, Jenna (Katee Sackhoff). My God, this girl is annoying! Tina in
Halloween 5
was pretty bad too but at least her love for Jamie Lloyd was one redeeming quality about her; this girl, on the other hand, is the definition of an air-head dumb blonde. She is so obnoxious, cares about nothing except getting some fame from being on this internet reality show, pressures her less than enthusiastic friend into doing it with her (according to Sara, she's talked her into similar things before), does annoying stuff while they're inside the house like fool her friends into thinking she's being attacked, and the way she talks is just irritating. When she's being interviewed and is asked what she expects to find in the Myers house, she says, "My ticket to internet fame," and does this stupid sputtering laugh, which just makes me groan, and when they're in the house and she lies on a bed, commenting, "And this must be the bed where he was conceived," I was thinking, "God, shut up!" I couldn't even be interested when she was lifting up her top at one point because of the dumb-ass face she was making while doing it; plus, it didn't help that her skin was so sickly pale (does that woman ever get out in the sun?) And unfortunately, like Tina, she doesn't get killed until very late in the film. Yeah, not a fan of Jenna. She's a perfect example of why slasher movies typically don't get any respect.
Just about as annoying as Jenna is Bill (Thomas Ian Nicholas), the guy who's constantly trying to get in her pants and convinces her to left up her top, even though it ends up being a complete tease. Not only does that make him less than likable but he's also just a snarky smartass, making obnoxious comments like, "Wow, a chair," and "Worried about your internet fanbase?" I just found him to be irritating and I'm not a fan of
American Pie
so I don't like those kind of teenager characters anyway. Fortunately, he's not in the film that much and he's the first one of the group to get killed so it wasn't that intolerable. I also don't care much for Jim (Luke Kirby) or his would-be love interest, Donna (Daisy McCrackin). Jim, while not as obnoxious or as much of a smartass as Bill, is still only interested in getting into Donna's pants and the money that he'll get from participating in Dangertainment. He's even willing to just sit around and not even give the viewers a good show at the beginning as well as contemplate going on with it even when he knows that it's all fake and seemed legitimately angry about it at first. As for Donna, even though there wasn't much to her, I didn't mind her at first since she was smart and seemed interested in exploring the house and finding out why Michael Myers became evil. She also continually resists Jim's lecherous advances... and then, when they're down in the basement, she comes onto him. Well, that was pretty sporadic. That comment about cameras being phallic not withstanding, she constantly pushed Jim away whenever he tried to come on to her, even giving him the finger at one point (I do like his comment, "That be 1:00?" when she does so), and then, out of nowhere, she starts making out with him and is fully prepared to go all the way, only being interrupted when a bunch of fake corpses fall onto the two of them. Well, you can probably guess what happens next: yep, she's dead meat. And when I talk about the deaths in the film, I'll mention how her actually getting killed by Michael, given the circumstances, is pretty pathetic on her part.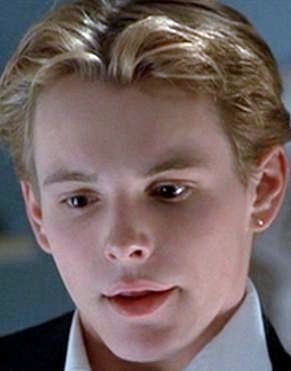 One person whom I don't mind and wish he was a part of the actual action is Ryan Merriman as Myles Barton, aka Deckard, Sara's cyber-friend whom she communicates with on her palm pilot. Yeah, he did lie to her and tell her that he's a graduate student and does think of it like he's dating her, he comes across as a very decent guy overall. He helped her with some of her college classes and he does generally care about her, finding a way to watch her online, something that she asked him to do since she's really nervous about, and when he realizes that she and everyone else is in danger, he not only calls 911 but tells her with her palm pilot where in the house Michael is and which way she should go. If not for him, it's very possible that Michael would have killed her as well. It also doesn't hurt that I like Ryan Merriman as an actor anyway, so he was a welcome addition to this movie for me. I don't mind his friend, Scott (Billy Kay), either, although I don't think he quite understands how the world works if he thinks getting invited to a senior party is going to lead to anything major for him. Plus, he looks ridiculous dressed as Samuel L. Jackson from
Pulp Fiction
, although it seems to get him a girl so what do I know? And by the way, if you're a fan of
Freddy vs. Jason
, you should recognize Kyle Labine, the guy who played the Jason Mewes-like character of Freeburg in that movie, as the one partygoer with the red outfit and small afro.
This image kills me.
And finally, Tyra Banks is... well, Tyra Banks. I know why they put her in the movie, because of her good looks and popularity for that very reason, but certainly doesn't bring much else to the movie other than eye candy. I like how they don't even pretend that she was hired for any other reason when the camera gets a close-up of her gyrating rear end as she walks to make herself a frappuccino (that song she's listening to in that scene sucks big time, by the way!). They're basically saying, "We're not even going to beat around the bush. Here's her butt." Mind you, I don't hate her in this movie or anything and I certainly don't mind looking at her but still, she's not a very good actor. And yet again, I know that's not why they even put her in the movie so this argument is completely pointless.
One thing you can't deny about
Halloween: Resurrection
is that it's a very good looking film. Even though its budget of $13 million is slightly lower than
H20
's $17 million, it's obvious that the production values are still very high and the movie looks very slick and polished, perhaps even a bit more so than its predecessor. The nighttime scenes may not be creepy or anything and they're hardly the darkest the series has seen but they're still very well shot, with a lot of blue lighting, which is always a welcome addition, even though in this instance it feels like it's there just for style rather than to create a mood. The production design of the film by Troy Hansen is also really good, particularly that of the Myers house itself, which is the main set of the entire film. The entire thing was an interior set and that did fool me because the first time I watched it, I just assumed that this was shot on location. Plus, since the house was built specifically for the film, they were able to make it look the closest to the way it looked in the first two films, just aged over twenty-three more years. While the film is hardly scary, the inside of the house does have a bit of an eerie quality to it, looking exactly what you would think the inside of a supposedly real haunted house that's been abandoned for years would look like: it's old and rundown, there's dust and dirt everywhere, there's no electricity so it's really dark when nighttime comes, especially since a lot of the windows are boarded up, and so on. I always felt that a movie set entirely inside the Myers house would be a good idea and while this film doesn't really make it creepy or anything, it's still nice that they at least made the effort to make it look the original house... for the most part. When you get down into the basement with that dungeon-like room and those sewer-like tunnels where Michael actually lives, it begins to feel less like a house you'd expect to find in a small American town and more like a relic from Europe's mediaeval times. It's still well designed but it just doesn't fit, although Michael's actual room down there is a bit eerie, especially when you see a doll with nails in its eyes, and it's particularly nasty when you see that he's been eating rats (does Michael just not have a taste for normal food or something?) And this is a nitpick but I just have to say that the original house didn't have a garage, which it does here. I know I'm grasping at straws and even Hansen himself admitted that it didn't exist originally but still, if I notice it, I notice it.
Like
Halloween 5
, this is a movie where I don't buy that it's taking place in October whatsoever; in fact, I think it may be a little worse here. When I first saw the movie, until I started seeing the occasional jack-o-lantern and Halloween decorations, I figured it was taking place in the springtime. It doesn't have the fall vibe to it at all, with all of the completely green trees and the bright sunlight during the daytime scenes. They try to give it a feeling of autumn by having dead leaves blow in from off-screen and being sure to show pumpkins, decorations, and kids dressed up in costumes but it feels tacked on and not genuine at all. The movie also just has a warm, springtime feeling to it overall. When Sara is driving to the motel to meet with the Dangertainment crew, it looked like a warm evening in May or something, so much so that it actually perplexed me when I saw a jack-o-lantern! That's not good. And even on Halloween night when you see people dressed up, like in that scene where those kids run up to the Myers house and leave a pumpkin on the porch, I still don't buy it. It just does not feel like Halloween, or like Haddonfield for that matter, to me but rather like a nice mid-spring night in California, which is ironic considering that the film was shot entirely in
Canada
! Judging from how it looked, I would have bet money that this was shot near L.A. or San Diego but not Vancouver. I guess you can make Canada look like any place in the world... too bad they made it look like spring in California instead of fall in Illinois (and I don't think its release date being in July helped that feeling either).
If
H20
was like the
Halloween
series' equivalent to
Scream
, then
Resurrection
is quite possibly that to
The Blair Witch Project
, only instead of being shot through the POV of a handheld camera for the entire film, they use the webcam gimmick, which was pretty new at the time. It's an interesting idea to have a web reality show based around a group of people investigating the childhood home of Michael Myers only for them to fall victim to the killer himself and it does kind of say something about the jadedness of the internet age when viewers see these people getting killed and think it's all a put-on. One of the writers has said that it was his intention to do a reversal of the infamous 1938 Orson Welles broadcast of
War of the Worlds
, with people thinking that something real is fake, which is more than likely to be the case nowadays since it's hard to believe anything you see in the media or on the internet. For that matter, the character of Freddie Harris knows that people won't believe that it's really Michael Myers when he goes around dressed up as him but he's willing to do so because he's, "just trying to give America a good show." And you know, Freddie's not exactly wrong when he says, "America don't like reality, first of all. Second of all, they think the shit is boring. They want a little razzle-dazzle, a little pizazz, a little thrill in their life..." When you watch a reality show, you're well aware that a good chunk of what you're seeing is hardly "reality" at all but is amped up for entertainment purposes and that's what the partygoers who are watching the show think when they see Michael going around, wiping out all of these people. They even cheer when he kills Rudy in a pretty nasty way because they think this is all part of the show. But then, when they realize that it's not fake and they're actually watching people get killed, they get into it in another way because now, they're genuinely concerned for Sara's safety and they're saying to Miles, "Tell her this, tell her that," and the one guy even yells at the computer screen, "Come on, go!" even though it's pointless because she can't hear him (but how many times have you done that yourself when watching something?) It takes on a whole new meaning then and they really come together as a group to help her get out of the situation alive. So whether or not you like
Resurrection
as a movie, it at least has some significance in that regard.
There are instances of some rather bizarre editing and sound effects in the film as well. Obviously, you have the constant cutting back and forth between the actual film and the webcam footage but there are similar things that don't have any explanation. The one that immediately comes to mind is when night falls on Haddonfield and we see that the group inside the Myers house has lit some candles on a table. We then see a POV shot of Michael from down the hall but then we get a quick glimpse of Michael walking down a different hallway (it looks as if it's a few frames taken from the scene where he kills Donna down in the tunnels beneath the house) which is noticeably slowed down and cut back to the POV shot but it continues to move forward until it's in the room and practically on top of them. All the while, you can hear Michael breathing so it is indeed meant to signify his presence but I don't get that latter portion of the POV. If Michael truly did walk into the room and get that close to them, how did they not see him? Can he suddenly turn invisible or something? That's always perplexed me, and the same goes for a shot where Rudy, while he and Sara are looking for Jenna upon hearing her scream upstairs, turns around and unknowingly illuminates Michael, who was standing in a room behind him, with his flashlight. As he does so, we hear a rather loud, wheezing breath which I'm not sure was meant to be coming from Michael or if it was just put there to creep you out. Whatever the reason, it feels rather out of place and so do inexplicable knife scraping sounds that you hear when Michael is doing nothing but just standing still or walking down a hallway without scraping the knife on anything. It's common to hear a knife scrape when it really shouldn't be there, like at the very beginning of
H20
when that woman raises the butcher knife to carve a jack-o-lantern, but it feels pretty random when you hear it in those aforementioned instances here. And finally, there's the part during the climax when Michael is just about to kill Freddie but Freddie grabs some live cables and shoves them right into Michael's crotch (!), sending him flying backwards and when he does so, you hear this echoing, "Ooh!" What in the heck was that? Was that supposed to be Michael? If so, then this may be the first time we've ever heard him respond to pain. I now understand why he tries to be as silent as he can because if his victims heard what he sounds like when he gets hurt, they wouldn't be scared of him at all. They'd make fun of him and try to beat on him as much as they could just to make him do it again.
Once again, Michael Myers is played a man, Brad Loree in this instance, who has a body style similar to that of the people who played him in the original film. It's good that they seemed to learn what the difference is between him and Jason Voorhees in the previous film and stuck to it for this one... for the most part. The part where he kills Jim by crushing his head feels a little unnaturally strong for him, akin to when he did it to Brady in
Halloween 4
, and he seems to be able to decapitate people quite effortlessly with a butcher knife but other than that, there's nothing about him that feels out of character here (yeah, he smashed through the door to Laurie's room in the asylum but he did that in
Halloween II
as well so I'm not counting that). Speaking of which, just like in
H20
, Michael's main weapon of choice is his butcher knife but, also like that film and the first two, he will use another method every now and then. I don't think Loree does that bad of a job at playing him either. Yeah, he's not doing anything that we haven't seen before and feels like a slightly juiced up version of Chris Durand from the previous film in terms of how he moves and gestures but I think he's acceptable and plus, it's nice to once again see Michael looking and acting like he should. While the force of evil feeling isn't as present here as it was previously (by this point, I honestly don't think that they'll ever be able to capture that feeling from the original film again, especially with Donald Pleasence gone and the series having been completely rebooted after this one), it's still fun to just see Michael doing his thing. As for his mask this time around, I kind of have the same feeling that I did with the main mask in
H20
: when it's lit and shot well, it looks good but other times, it looks a little funky. I like the face of this mask more than the previous one but it still looks strange in some shots. And during the climax in the burning garage, I swear that there are times when the face looks like Jamie Lee Curtis'! Maybe I'm the only one who sees that but when Michael flings Freddie back against the wall, knocking him out, to me the mask looks the way Laurie did at the beginning of the movie when you see it in close-up. Does anyone else see that? If so, tell me so I know that I'm not crazy.
You do get some pretty good kills in
Resurrection
, kills that are much more memorable than the ones in
H20
(but then again, that movie had another agenda altogether). The blood itself is a little too bright red in spots, granted, which was pretty typical of horror films of the time, but still I think Gary J. Tunnicliffe and his crew did some pretty good work. Ironically enough, according to Rick Rosenthal, the same thing that happened with
Halloween II
happened again here: he didn't want a lot of gore but the producers made him go back in and beef it up a little more (at least in this instance, he didn't have somebody else doing it behind his back). History has a funny way of repeating itself. In any case, you get a couple of gruesome kills right off the bat, with Michael decapitating one of the asylum's security guards off-camera, which leads to the other finding the head in a running dryer (a really horrific image, I might add) as well as the headless body and then he gets a really gruesome throat slash. Of course, after that is when Michael kills Laurie but there's nothing technically special about that death, just a bloodless stab in the back, so let's not dwell on that. Up next is Charlie, one of the cameramen for Dangertainment who falls victim to Michael when he's setting up cameras inside the house. Michael takes the sharp points at the end of the legs of a camera's tripod and slowly impales Charlie through the neck with it when he backs up against a wall. Standard bloody kill but effective. The kill that always makes me cringe, which is interesting because there's no blood whatsoever, is that of Bill when Michael suddenly bursts through a mirror, although I don't know how he was able to smash through it since it was hanging on the wall or how none of the viewers saw it, grabs him, and puts the knife right in the top of his head! Ouch! Again, there's no gore and I didn't really like this character either but the violent, quick action of that blade going through the guy's scalp makes me go, "Crap." The most pathetic death to me is that of Donna down in the tunnels beneath the house. I'm talking about the method, which is Michael pushing her and impaling her on a bar that's stick out horizontally, but by the simple fact that she could have gotten away. She runs into a gate but it's a gate that has a hole big enough for her to climb through. It's mangled but you still make it through it. But, she just pointlessly shakes the gate and allows Michael to get up to her and push her into the bar that's sticking out. The shot of Michael looking at her webcam and then walking away, leaving her dead face staring up at the ceiling, is a bit eerie, though.
They must have realized what an irritating person Jenna is because she gets one of the best deaths by far. Michael corners her at the top of the stairs, swings that butcher knife, and slices her head clean off, sending it tumbling down the stairs. Michael's either really strong or must be an anatomical genius and knows exactly where to aim in order to cut someone's head off with one swipe. After dispensing with Jenna, Michael chases Sara, Rudy, and Jim into the next room where he corners Jim, raises his knife, then puts it into the wall and proceeds to grab Jim's head and crush it with his bare hands. Again, I think this kill is a bit too Jason-like since it involves over-the-top strength but I can overlook it. Plus, you got to love the blood coming out of Jim's eyes and the sound of bones crunching until they finally snap when Michael finishes him off. Michael almost gets Sara next but Rudy distracts him and he chases him into the kitchen, where Rudy manages to fend off for a little bit... and then, Rudy realizes the door leading outside from the kitchen is locked. When Michael comes at him, he tries to stab him with both of his knives but Michael catches both of his arms, pulls them both down, holds him in place as he lifts him up, and then impales him through the sides with the knives, hanging him on the door. And then, just for good measure, he goes to a cabinet, takes out another knife, and puts it right through his chest and out the other side of the door, finishing him off. That's the last onscreen death that we see, however when Sara makes her way to the garage during the climax, she discovers Nora lying in a pool of blood. Her death was filmed, though, and while it's not on the special features of the DVD, you can find it on YouTube. However, not only did they remove her actual death but they changed the method in which Michael killed her as well because in the scene that was filmed, he simply strangles here whereas here, he obviously knifed her to death.
One thing I definitely appreciate about this film is that there aren't as many false scares here as there were in
H20
. There are a few, though, but they don't do it so much here that you get sick of it. The film has one very early on, where Harold, the mental patient, scares one of the security guards at the asylum. Very, very cheap and predictable. There's another where Sara, while trying on clothes at a shop with Jenna and Donna, sees a reflection in the mirror of Michael standing outside the window behind her but when she turns around, there's nothing there. Why did she see that? I understood why Laurie saw stuff like that in the previous film because of her being traumatized by what happened with Michael decades before but Sara has never encountered him before. The stupidest one is when they hear Jenna scream upstairs and after looking around for her, Sara enters this one room and she pops out of the dark at her and they both scream like banshees. Then Jenna says, "Gotcha!" with that stupid smile on her face, which leads into Sara calling her a bitch and Jenna fires back with, "Slut!" You see why I hate that woman? And finally, you have a weird part where they're in one of the bedrooms and a mannequin with a face that looks like Michael's mask falls out of the closet and onto Sara. Sara asks what that thing and that's also what I want to know. What is that thing and why is it in that bedroom closet. I guess Freddie may have put in there in order to create a cheap scare for his show but it's still something that comes out of nowhere. Who knows, maybe Michael models his masks on that thing. Maybe that thing scared him as a kid and it inspired him to find a mask like that when he started killing people.
See, couldn't she rather easily climb through that?
While the kills are enjoyable,
Halloween: Resurrection
unfortunately lacks in terms of thrilling chase and suspense sequences save for the climax, which is basically one big chase/fight with Michael. There are some throughout the movie but they're either very short, like the beginning where Michael chases Laurie through the asylum and up to the roof to where she attempts to kill him but ultimately gets killed herself, or highlight how dumb the characters, like how Nora doesn't see Charlie's dead boy getting dragged away on one of the monitors behind her in the control room even though it's in her peripheral vision (I understand that she didn't hear it because of the music and the sound of the frappuccino machine) or Donna doesn't get away from Michael even though she could if she were just willing to get a little cut up. The major chase sequence of the film begins when Michael kills Jenna and proceeds to massacre the rest of the group save for Sara, who gets to an upstairs room and barricades the door. Here, she contacts Miles for help, who begins informing her of where Michael is at any given time, telling her that he's coming up the stairs and that he's in the hallway outside of the room. He tells her not to scream but, of course, she does, giving herself away, and she's told to climb out the window. Although she makes it outside, she can't jump down because it's too high up. At that point, Michael smashes his way into the room and looks out the window, seeing her. She kicks him in the face but he also manages to slash her in the leg as she makes her up to the attic. Rather than pursue her up there, Michael ducks back inside the house. After getting herself situated up in the attic, she once again asks Miles about Michael's whereabouts and he tells her that he's in the hallway and then that he's gone into his old bedroom. Realizing this is her chance to escape, Miles tells her to do so and she quietly climbs down the ladder leading from the attic, over Bill's body, and makes her way down the hall. As she does so, she's grabbed from the dark by Freddie, who realizes that everyone else is dead and tells her that they've got to get out now.
Sara and Freddie try to escape but they're ambushed by Michael, whom Freddie immediately tackles into the next room but Michael manages to grab him and fling him across it. After getting to his feet, Freddie proceeds to use the kung-fu moves that he's seen Wat Chun Lee do on TV against Michael. While Freddie does manage to pulverize Michael with a kick, he grabs his leg when he goes for another one but Sara jumps on him from behind before he can use his knife. Michael spins around, whipping his knife, trying to get Sara off of him and eventually manages to do so but before he attack her, Freddie gets his attention and after doing some more kung-fu noises and posing, he runs at Michael and sends him crashing out the window, getting tangled up in some cables and apparently hung in the process. Feeling that they're now safe, Freddie and Sara walk down the stairs and prepare to leave, with Freddie telling her that he saw Michael's room and that he's been living underneath the house for years. However, when they reach the bottom of the stairs, Miles sends another text to them, informing them that Michael isn't dead. Looking out the window, they both see that Michael is indeed not hanging out there anymore. Sara asks Miles where Michael is and he responds, IN THE HOUSE! Immediately after seeing that, Michael appears behind them and stabs Freddie in the shoulder. Freddie tells Sara to run before he collapses and she takes off into the dark house and manages to make her way down into the basement and into the tunnels beneath the house, with Michael in hot pursuit. Sara eventually finds a ladder leading up to a hatch in the roof of one of the tunnels and although Michael manages to cut the back of her leg again while she's climbing, she kicks him in the face and makes her way up through the hatch, finding that it leads into the garage. Sara puts a barricade over the hatch and as she backs away from it, she slips in a large pool of blood and finds that it's coming from Nora's body.
Seeing Michael appear outside the garage doors rather than try to come through the hatch to get her, Sara quickly finds a place to hide. Michael enters the garage and searches around in the dark for Sara. Seeing her webcam's POV on one of the monitors in the garage, Michael realizes where she's hiding but Sara comes at him with a chainsaw and manages to slash him a couple of times with it as well as cut a few of the cables hanging from the ceiling. Unfortunately, the chainsaw stalls and after she tries to restart it with no luck, Sara futilely flings it at Michael. Just when Michael has her cornered, the sparks caused by her sawing the cables in the ceiling create a small fire that makes its way to the small lawnmower in the garage, which explodes and sends the two of them flying back as well as creates an even bigger fire. Sara is flung onto a table with a modem sitting on it, which falls and tangles her legs up in the cables (at least, that's what I think is the reason why she can't get up). Michael rises to his feet, grabs his butcher knife, and makes his way over to Sara. As he raises the knife, ready to kill her, Freddie, injured but alive, bursts though the garage door and resumes his fight with Michael. He grabs a shovel and whacks Michael across the chest with it. Twirling it around in his hands, he prepares to hit him again but Michael grabs the shovel and manages to overpower Freddie, eventually knocking him back against the wall. Michael closes in for the kill but Freddie regains consciousness at the right moment, grabs a cable, and shoves the end of it right into Michael's crotch, sending him flying backwards and getting tangled up in the cables and wires hanging from the ceiling. Freddie uses the live cable to create another fire that directs itself towards Michael. He then grabs Sara and carries her out of the garage on his back, leaving Michael to the burning shack.
Halloween: Resurrection
was originally slated for release on September 21, 2001 but, because Dimension felt that the film wasn't strong enough, that release date was pulled and reshoots were done from September to October. I also think that 9/11 had something to do with it as well; the producers had to realize that no one would be in the mood for a horror film just ten days after that. In any case, these reshoots resulted in several different versions and endings for the film. While I personally have not seen these alternate versions of the overall film, I have seen the alternate endings since they're on the DVD. One ending involves the police investigating the remains of the burned down garage and as one female investigator approaches the hatch leading down into the tunnels beneath the house, Michael pops up and grabs her. Another involves Sara being saved not by Freddie, which implies that he was killed when he got stabbed, but by Miles, who bursts in, carries her outside, and introduces himself to her. (I'm glad they didn't use that one because that would have ben rather anti-climactic as well as unbelievable for Miles to be able to make his way down there and save her in the nick of time.) And finally, you have an ending where Michael comes to life on the gurney as Freddie and Sara are looking at his charred body, attacks Freddie, and Sara quickly grabs a fire axe and puts it right in Michael's head! In other words, that ending is sort of a compromised version of the ending of
H20
only this time it actually is Michael getting the axe put to him. I think we can assume that if that one were used, there wouldn't have been any more films made afterward (but then again, I say that and immediately think back to
H20
so now I'm not so confident about that). In fact, there were so many endings to this film that Rick Rosenthal suggested to the studio that they take advantage of it and use it as a gimmick, shipping the film with a different ending to each theater, akin to what happened with the film version of
Clue
. The studio, however, didn't see it that way and they all got what became the official ending.
As I said, there are a couple of workprint versions of the film out there. One retains the original title of
Halloween: The Homecoming
and contains an alternate opening that involves the Myers family's home movies (which is actually at the beginning of the
25 Years of Terror
documentary), an alternate music score, an added shot of the audience gasping when Donna discovers that the half-eaten rat she finds down in those tunnels isn't fake, and the ending involving the CSI. The other workprint is much more obscure but contains more deleted material than the first one, although they both share the alternate opening with the home movies. The workprint also contains an alternate death for Laurie with her falling onto some concrete, Michael actually stealing the car that he uses to return home (it seems like that was centered around a very
Friday the 13th
-esque scenario where Michael sees two people having sex in a tent), an alternate death scene for Donna where she actually runs into the spike rather than Michael shoving her onto it, Nora's death actually being shown, a shot of Freddie and Sara making it outside after he saves her, and the ending where Sara puts the axe in Michael's head. While these workprints might be interesting to watch for curiosity's sake, I sincerely doubt that I will ever actively pursue them since I, quite frankly, don't care enough about this film in order to do so.
Looking at it in retrospect, the ending to this film is not only an uncreative jump scare, with Michael's eyes opening with a loud, jolting noise on the soundtrack after his charred body is brought to the morgue and the female pathologist prepares to examine him, but it's also sad since it's very likely that it will never be followed up on. They didn't realize it at the time but this film would end up being the last entry in the original
Halloween
series. Obviously, they intended to make another film, with there even being a contest for someone to have a walk-on role in the proposed
Halloween 9
, but when Moustapha Akkad was killed in Amman, Jordan by a suicide bomber in 2005, the decision was made to completely reboot the series and start over with a remake (although, of course, that also was because the studio saw dollar signs after the
Dawn of the Dead
and
The Texas Chainsaw Massacre
remakes did very well). It's a shame that the original series couldn't have a proper closure. Like I said back at the beginning of the review, while I still don't like that she was killed off, I do wish that if anything, Laurie being killed by Michael was at the end of the movie instead of the beginning so the series could have at least had a concrete conclusion with Michael walking off into the night after finally completing his task. But unfortunately, history is history and fans of the series will just have to be content with it ending on a jump-scare. While there is a very slim chance that we may see a proper wrap-up of this original series, seeing as how
Texas Chainsaw 3-D
was made as a direct sequel to the 1974 original, I'm not going to hold my breath.
One of
Resurrection
's strongest assets is the music score by Danny Lux. Above everything else, I honestly think that this film has one of the best scores the series has seen in a long time and I think the rendition of the Halloween theme this time around is the best since the synthesizer version of it way back in
Halloween II
. It's a simple, straightforward piano version of the theme but it's played very well, with crashing keys and some background noises like an ominous drone, some creaking, and a moan-like sound put into the opening version of it to add to the effect. As that opening version of it goes, you get a melancholy-sort of section while Laurie is narrating about the tunnel and then a much more somber version of the theme accompanied by some vocalizing as we see Laurie sitting in her room in the asylum. I also particularly like the slow ominous build-up to the theme after Michael hands the knife to Harold after having killed Laurie and walks off, a version that's played again at the end of the ending credits and is given an extra bit of atmosphere there with, again, the addition of a vocalizing woman. There's also a slow, rather eerie version of it that plays as Michael walks after he's killed Donna. Lux created some other good bits of music as well, like a nicely frantic theme for the sequence when Michael chases Laurie up to the roof, a rather sad theme when Michael finally stabs her and sends her falling to her death off the side of the building, some creepy bits for when the kids first enter the Myers house, an atmospheric theme for the scene when we see some kids running around Haddonfield on Halloween night and leave a jack-o-lantern on the porch of the Myers house, and a threatening piece that leads into the Halloween theme when Michael starts after Sara after stabbing Freddie. You can also hear some sound effects on the soundtrack as well, like a woman faintly singing at points as well as a whirling-sort of sound. But, not all of the music is good. This one dumb theme, which is only played once, thank God, occurs when you're first introduced to Jenna and it perfectly signifies what a stupid character she is. It just goes, "Durn, dur, dur," over and over again and it's just bad. I guess they made it that way for a reason but it's still a chore to listen to, as brief as it is. And the songs that are on the soundtrack suck big time as well, especially that God-awful one that Nora listens to while sitting in the control room, talking to Charlie. I don't know what that song's called and I don't care either. The same goes for all the songs that you hear when Miles is chatting with Sara online at his home as well as the songs you hear during the party, although that music that's playing when Miles and Scott first arrive at the party does sound pretty cool. Overall, a really good music score but some piss-poor songs.
It's not hard to see why
Halloween: Resurrection
is one of the most despised films in the franchise. While I do think it has some good points, like some nice kills, a nice use of the webcam gimmick and the setting of the Myers house, a decent portrayal of Michael Myers, and a really good music score, it certainly has a lot of faults. The majority of the cast is either unremarkable or just plain annoying, there aren't that many good chase and suspense sequences, the opening with the downright insulting explanation of how Michael is still alive and the death of Laurie Strode definitely won't win any points with fans, especially after
H20
, the songs on the soundtrack are really bad, and the film, as a whole, is not scary at all and is filled with clichés, including an annoying jump-scare ending. It's a shame that this had to be the way the original series of
Halloween
films ultimately went out. While I personally don't despise the film as most do and I could certainly watch it as a time-waster, I can understand why it's not fondly remembered by fans and probably won't garner a cult following any time soon either.